[pics incl]  If you've been following along, you know I have no place to … critique… anyone else's cooking [ http://blog.scottsontherocks.com/blog/2014/04/10/almost-not-flat-blueberry-muffins/ ]  So, I will just TELL you what happened.
Claudia and her sister Clarissa are spending Easter weekend with us, I think mostly because we said "You are NEVER to old to make Easter eggs…"
As we were pulling out the Easter box, I showed them cookie cutters and said something about bunny cookies … we have cookie dough.   I took the others to the lightrail and Jeff told Claudia that he expected bunny cookies when he got home (yes, he was joking… seriously, he was joking seriously 😉 )
It takes about 20+ minutes roundtrip to go to the lightrail, and when I returned home… Claudia and Clarissa had made cookies.  Having never made cookies without adult supervision….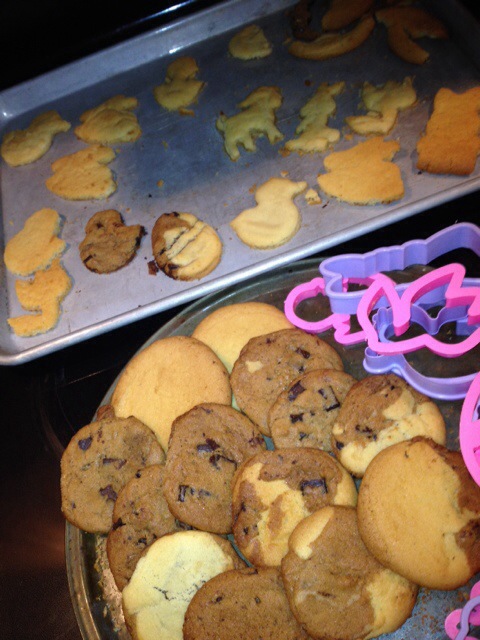 See that pile of crumbs in the top right corner?  They had baked the cookies THEN used the cookie cutters.  I smiled.  I had to leave the room.  THEN… I explained that it might have been easier if they had cut the cookies out BEFORE baking them.  After several minutes, Claudia said "I bet we wouldn't have wasted as many cookies…"
AND… now they know 😉  We didn't get a chance to make more the correct way 😉