[pics incl] For Scotty's 85th birthday, we all SURPRISED him with a short cruise out of Galveston . He had to be told of the cruise because they changed things up and began requiring negative covid tests. He and Jacque arrived at Sheri's & Jody's a couple days prior, where they had planned to have "just a birthday dinner to see them off." 😉 Up until then we had all been kinda avoiding each other as best as possible, until we all tested negative.
Sheri & Patti planned it all out 😁😁 First, everyone arrived, but Jeff & I stayed outside. They told him they had a surprise for him… in walks Jeff. Scotty was definitely surprised! BUT THEN, they handed him his gift which was a t-shirt & card. The shirt is a cruise shirt and says "Oh Ship! It's a Birthday Trip!" On the card was written how everyone has pitched in to give him the birthday cruise BUT THAT'S NOT ALL, turn page and it says"WE ARE ALL GOING WITH YOU" listing those who could go. Ten in total, including Scotty & Jacque!
Jeff and I flew down the weekend before but mostly avoided everyone (except my immediate family) and including anyone going on the cruise, hoping that, in the end if anyone tested positive, the others would not have been exposed and could still go with Scotty & Jacque 😉😉
Jeff and I spent some quality time on/off at my parents' house. Jeff had to work those few days prior to cruise but was able to do so a little from their home. I helped rearrange a cabinet 😉 or two… which brings up "just how many people does it take…?" Three… it takes three people to rearrange. One to take the hinges off said cabinet and two to gather all the items from another room to also store in the cabinet😂😂 Actually, they were having some painting done, dad took the hinges off so we could walk thru easier & mom and I moved all the dishes from her china cabinet into the kitchen cabinets 😉 Considering we didn't break any dishes and no one fell off a ladder, I'd say between the three of us it was a comedy it succeeded! We managed to squeeze in a dinner with Andrea, Mark & Hayley (& TaffyToo her little puppy)
It was a first cruise for both Jeff and me because I usually say "I get seasick talking about boats!" However, since clot, either something has changed in my brain or my brain meds have changed whether I get motion sick. Soooo… this was a test for me. Regardless, I figured I could manage for such a worthy cause! 😉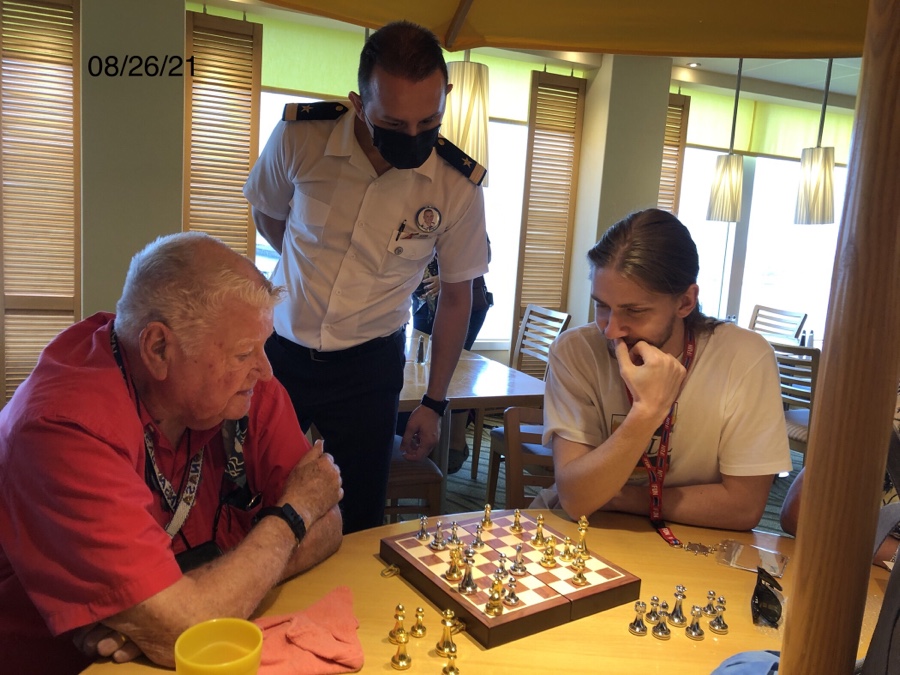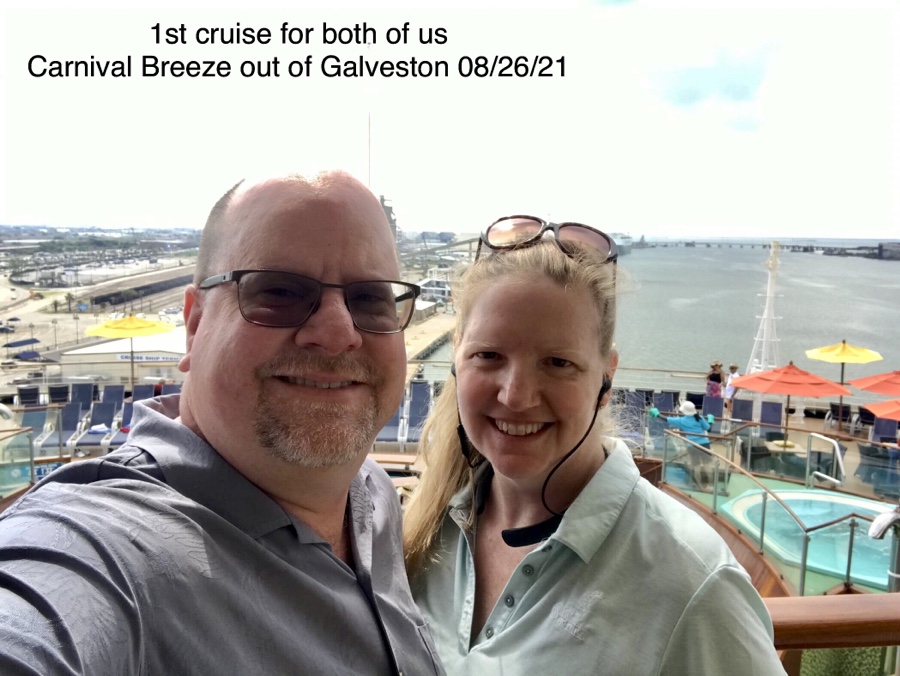 Justin brought his chessboard and Grandpa was a willing partner. Many people paused to check out their progress.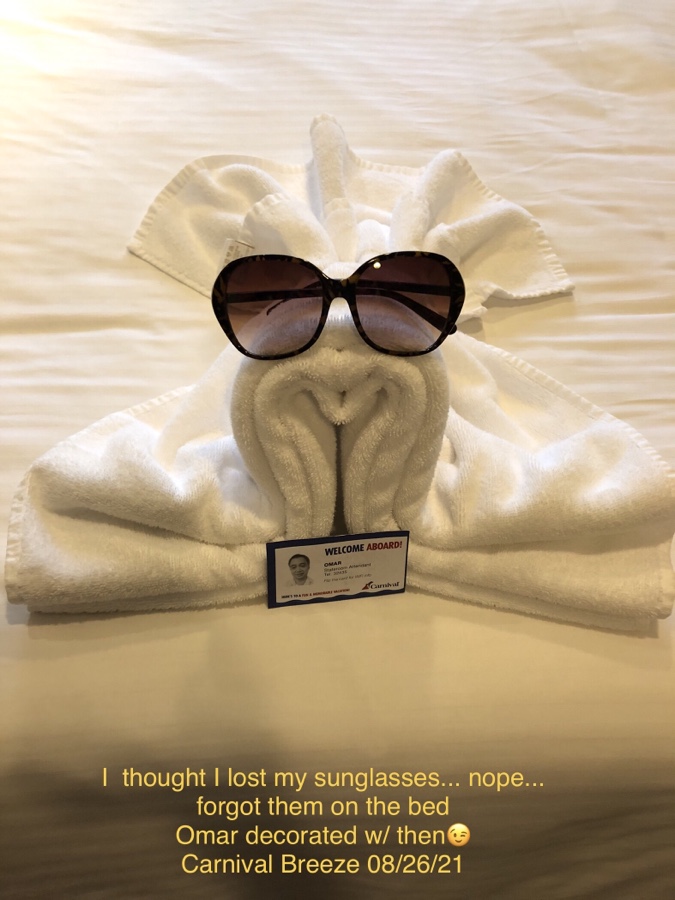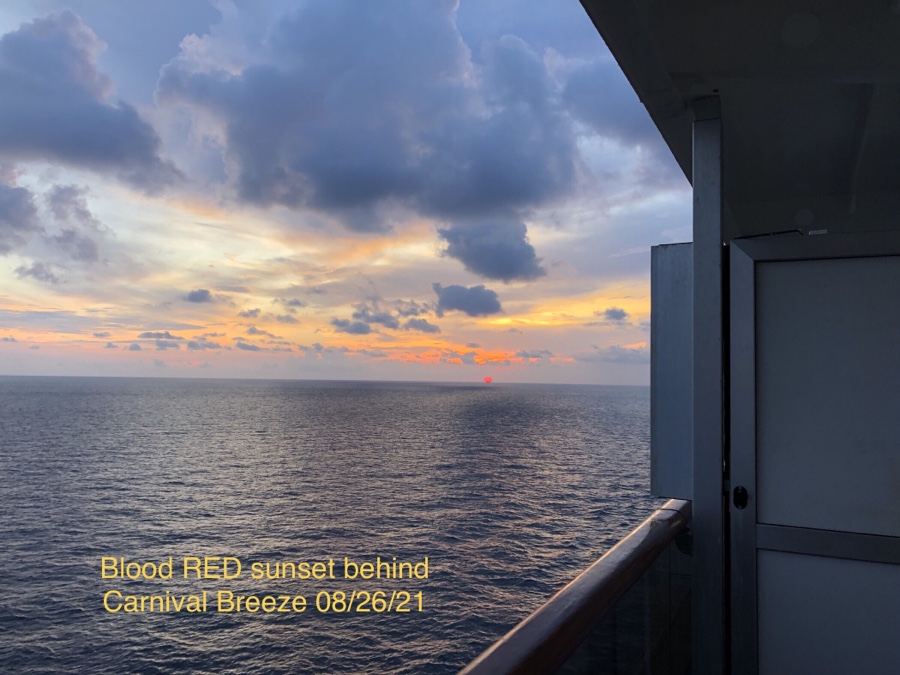 Look close at the sun near the horizon (right above water)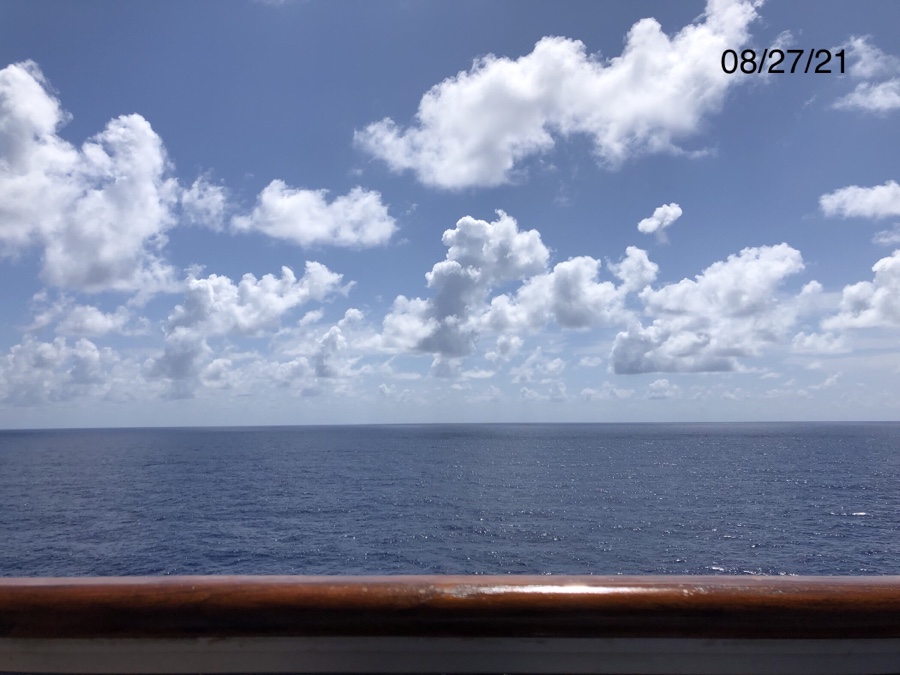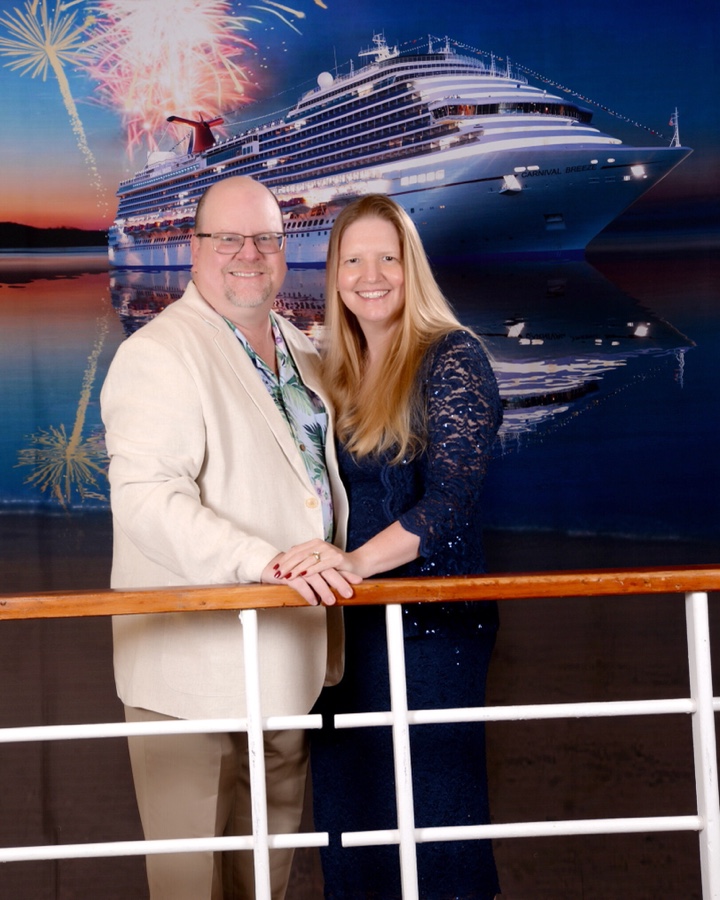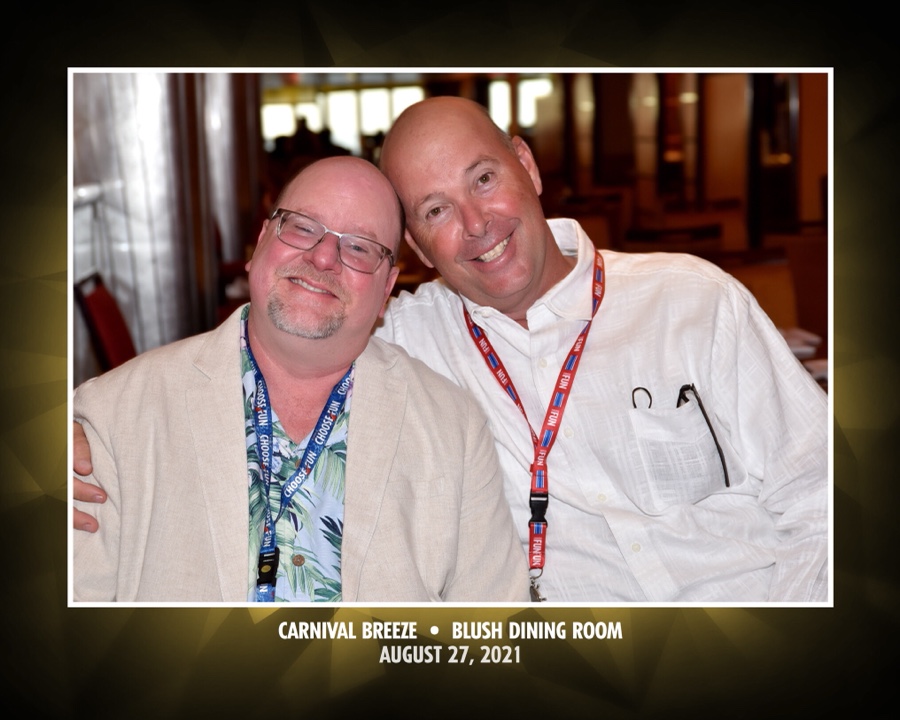 Formal night led into changing clothes and finding min-golf & fooseball. The ship rocking might have contributed … or hindered play, depending on your perspective of course 😂😂 There were some par 22 (or is that quadruple eagle?!) and hole-in-one!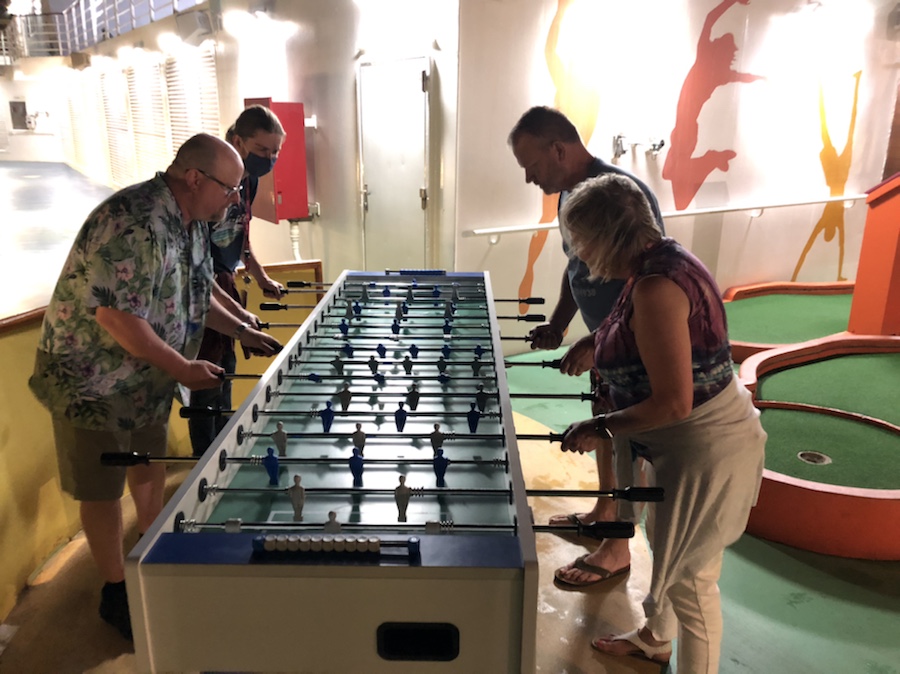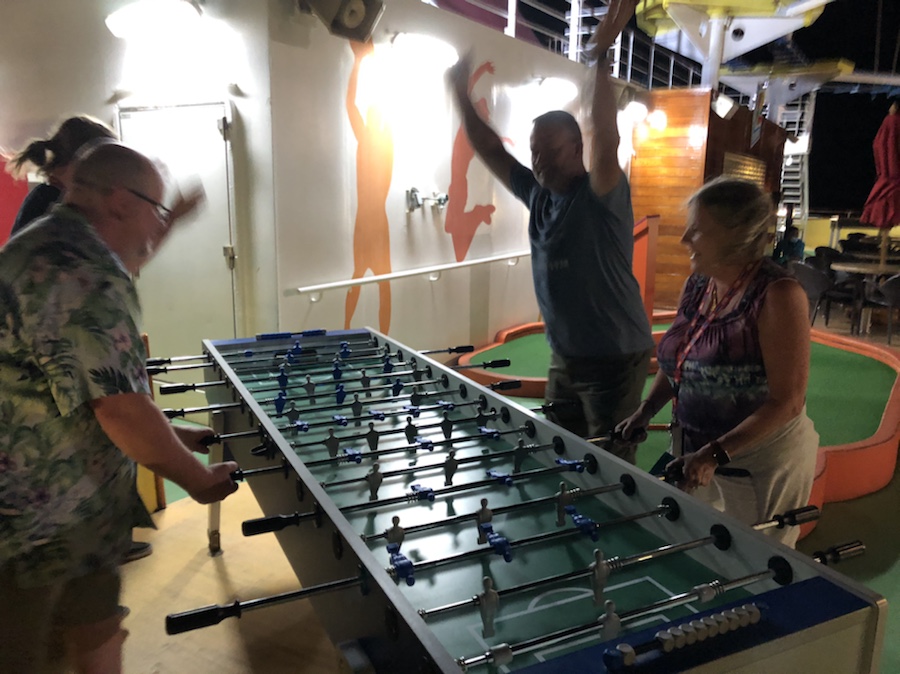 Oh wait… did I mention the hurricane no one told me about until just before we were leaving?!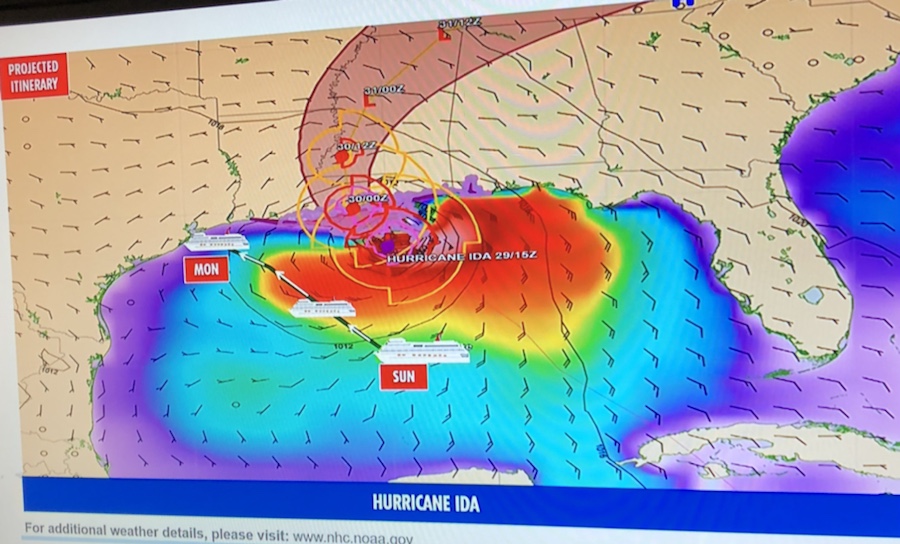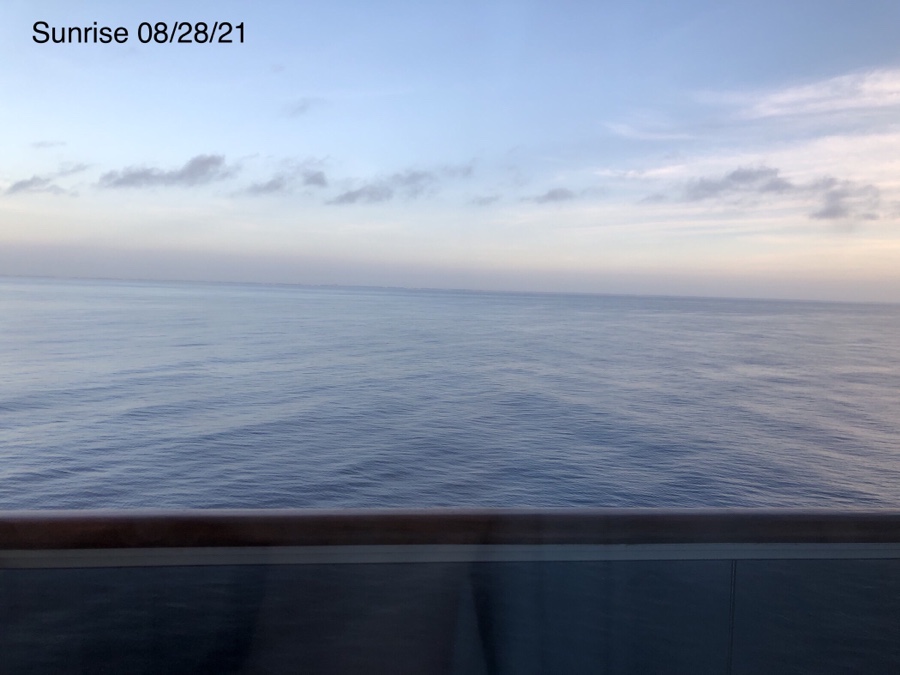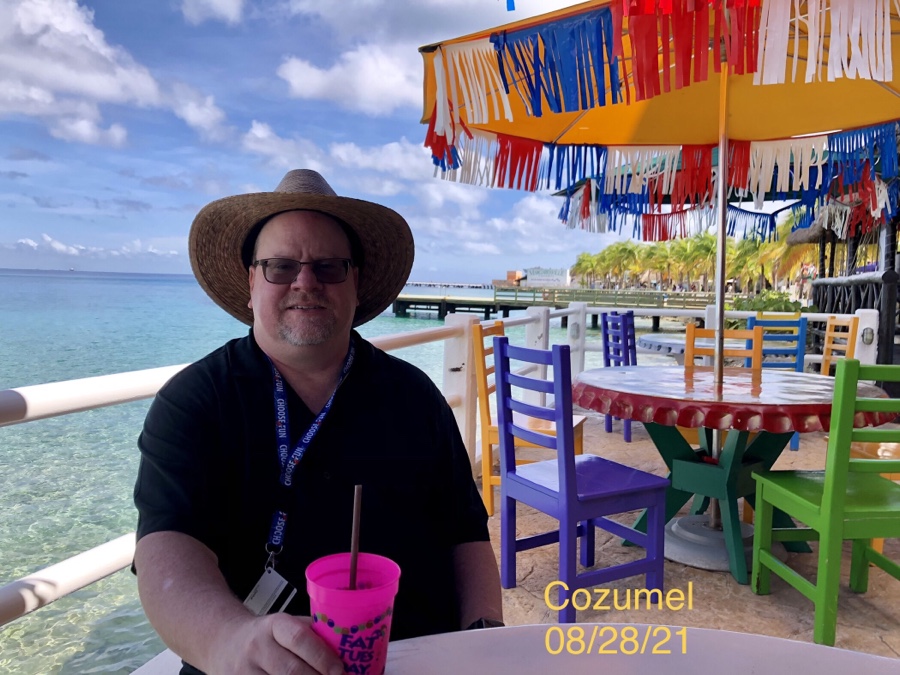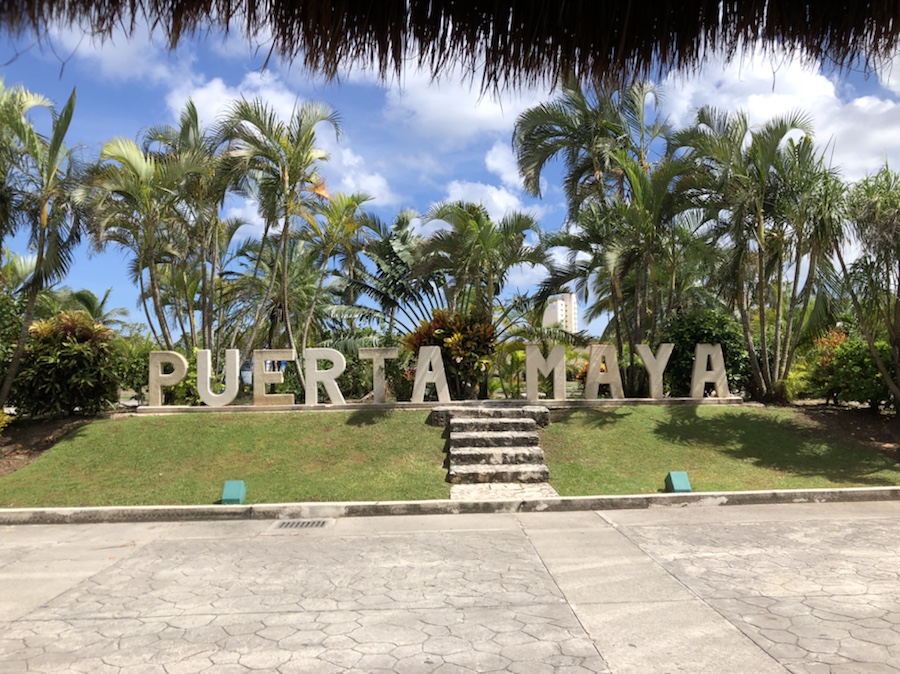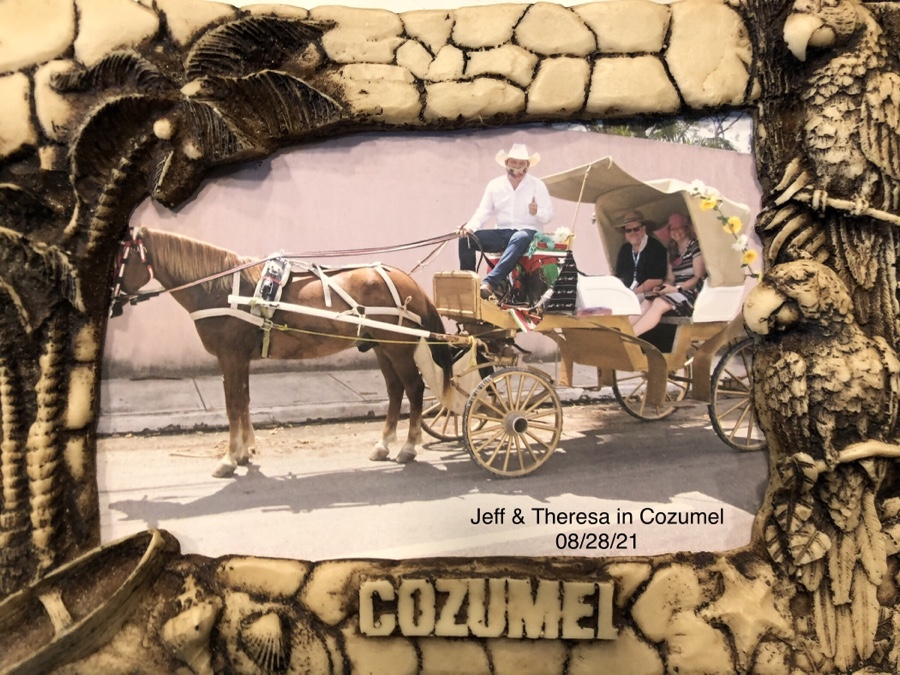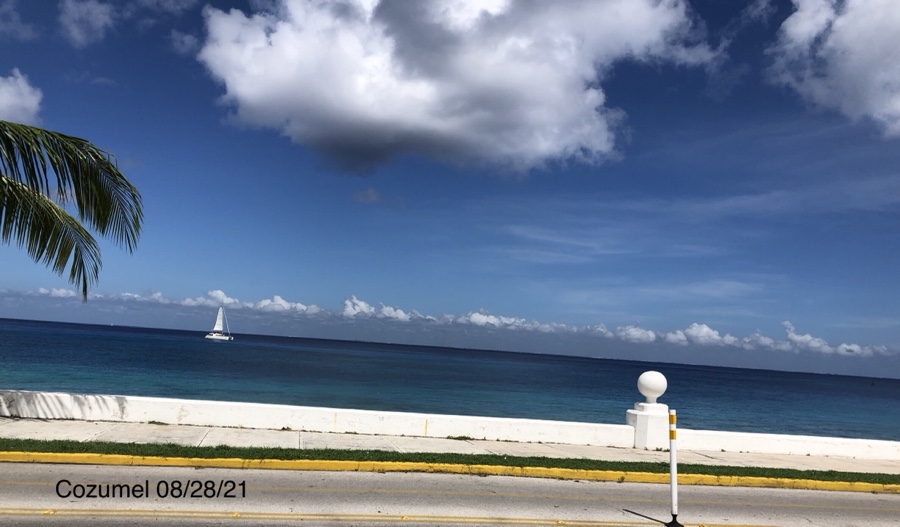 Lunch in Cozumel. Jeff and I took a horse buggy into town.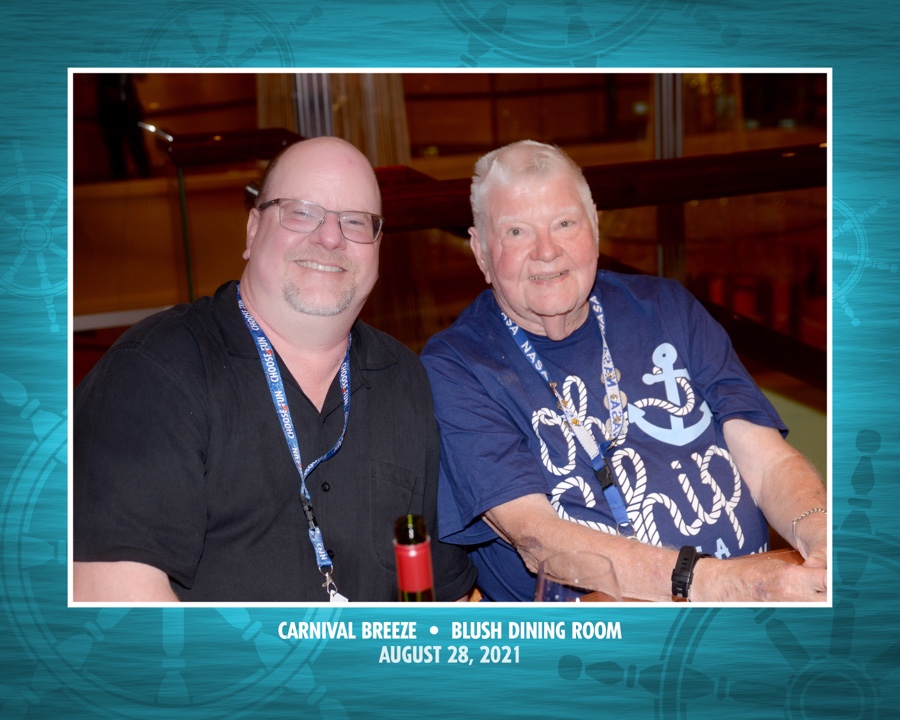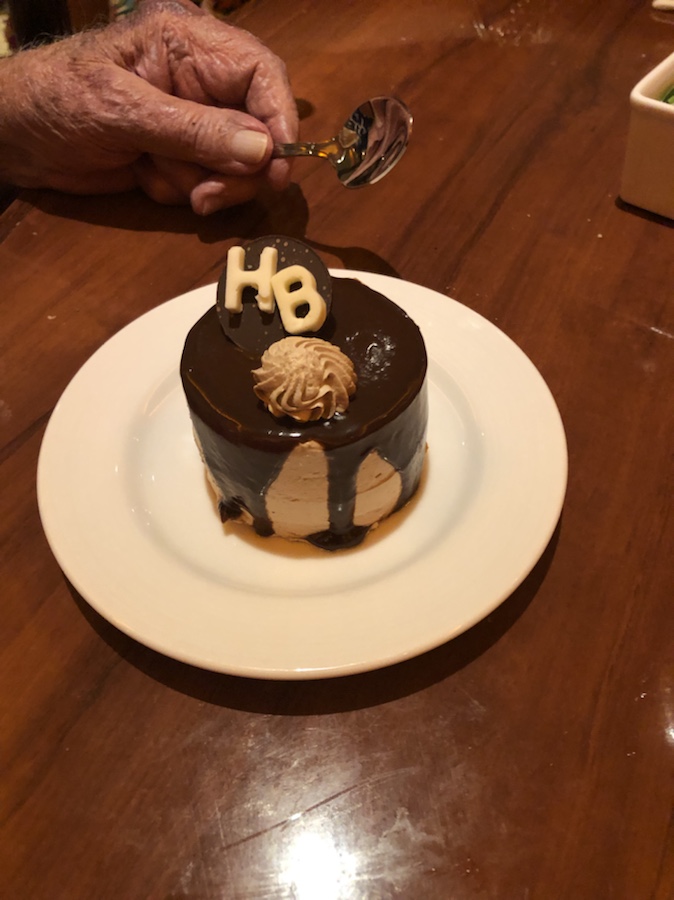 The desserts were awesome! Everyone on the ship helped us celebrate our wonderful Scotty… THE reason we are all here… literally! I couldn't have selected a better father-in-law… grandfather for our kids, my mentor, friend… family! Love You!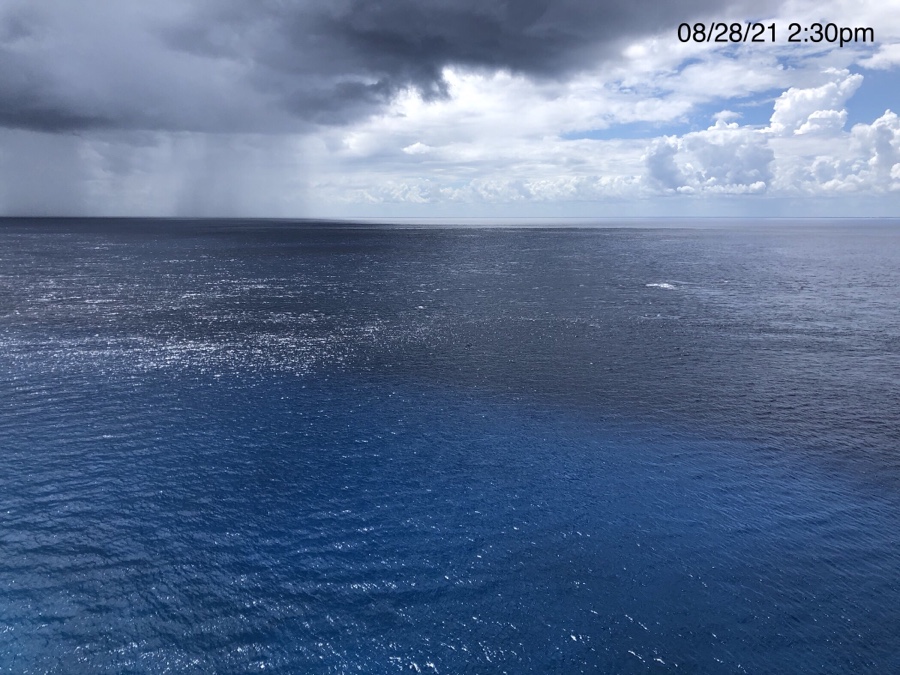 This is unedited! that's the color of the water:bright blue/deep black… with the storm on the horizon.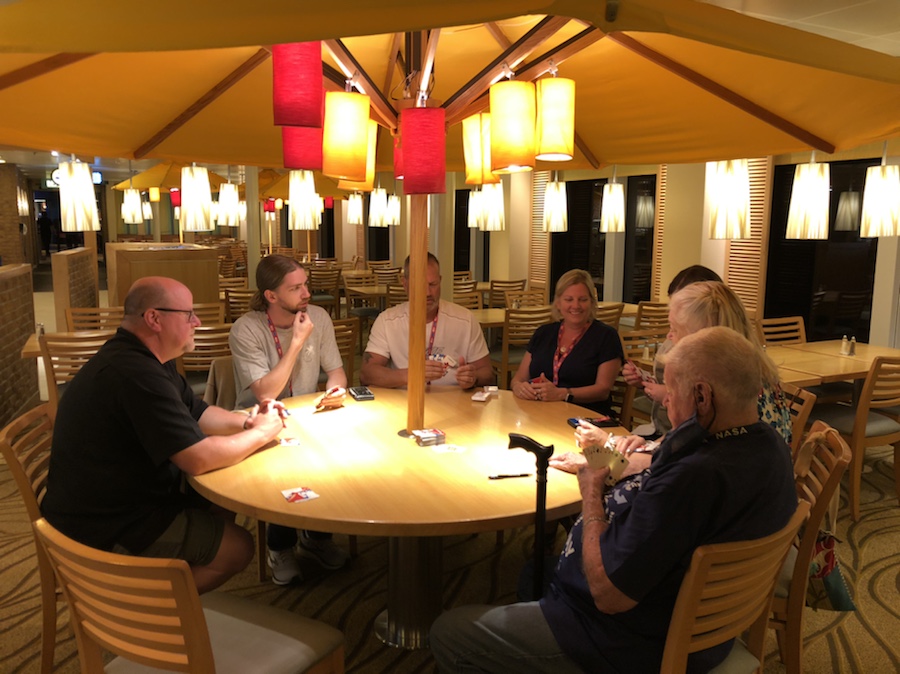 Playing Three-Thirteen was a fun way to spend quality family time & share stories. Jeff also remembered to bring our pinochle decks and we squeezed in a few games while listening to trivia night too. Jessica & Justin watched us & Justin won a trivia challenge! GOOD TIMES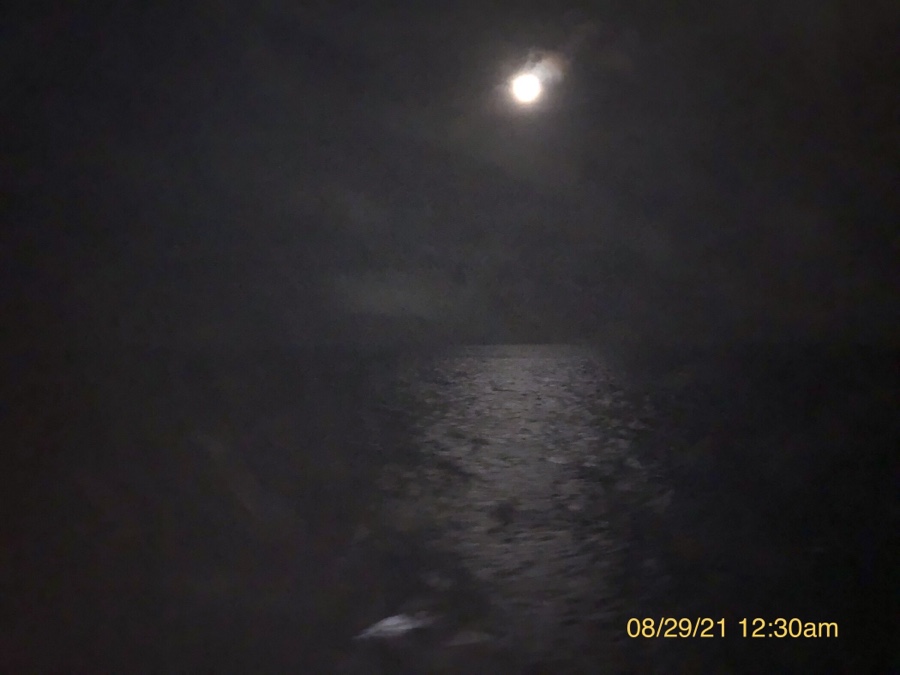 Moonlight on the ocean. it is not visible in the photo really, but you can see where the sky is clear and where the storm front is way out there as we approach.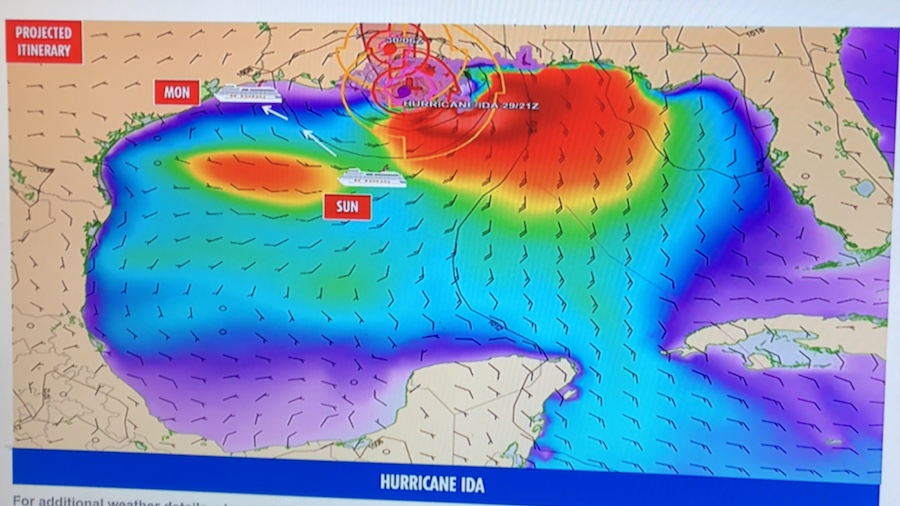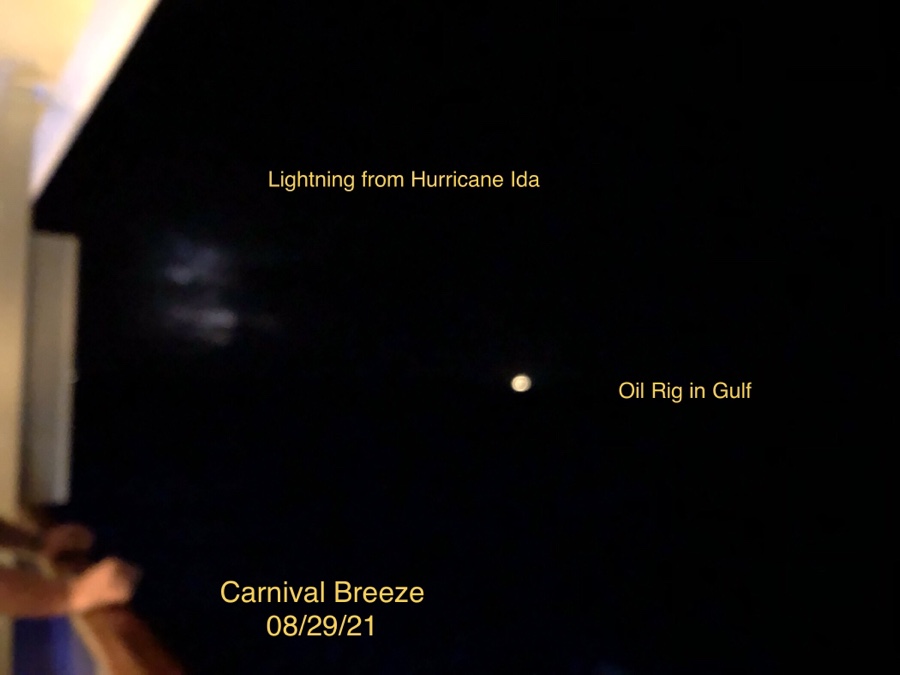 Yah know…. I should get brownie points for cruise + Hurricane Ida + the other whatever visible from the other side of the ship! Seas got a bit rough for ….just ….a …little …while. Enough to make EVERYONE aboard appear as drunken sailors! 😂 Scotty & I were very glad there were handrails everywhere… & benches. We even decided that if we ever do this again…. we should definitely opt for getting the scooter! I would go on a cruise with him again if only to see him driving a scooter 😂😂 Where to next?
I highly recommend the ear patch thing to those of you that are hesitant. I also recommend avoiding hurricanes😉 [Personal Note: I did TEST whether or not I needed the ear patch and went about 24+ hours before the motion began to start making me notice… not awful, just… noticeable. As we were having formal night & formal group photos, I opted to "better safe than sorry" …but I probably would have needed it within <8 hr window of that as we skirted the hurricane edges.]
Overall, it was a good experience! [Well, there was my brief detainment with Customs … You should try to avoid that 😂😂 ]
[HEY THERE… I know this is a novel but if you've stuck around long enough to read the whole thing…. do me a favor and hit reply so I know you got it! or txt me. I'm attempting… again… to update my contacts (a bunch got deleted recently) If I ask who you are, it could mean your contact info is missing… OR … I've completely forgotten who you are but I'm gonna pretend like your contact info got deleted. He he he]