[pics incl] Jeff & I were kinda on a mission to find some places we could go camping year round. We decided to try out John Martin Reservoir in southeastern Colorado. I dunno if it fills up in the summer but it turned out to be a great place. I'm working on editing & captioning the pictures. I took a bunch but figured we could all enjoy them together (these are "my memory cuz I'll probably forget this too 😢)and I'll upload them as I do… keep checking back (I'll let you know when I've reached the last one). I'm really slow though! 😉😂.
We stayed in the loop where all the sites have electricity. (none have water or septic but there are plenty of water spickets around & a nice dump setup off the main road. We arrived after dark… and if you've ever gotten camping advice from me…. what do I say??? Don't get there after dark if you've never been and don't know what to expect 😉 We found a water near out campsite but is the kind you have to manually hold…. it's 40* out…. Took about 15min but We figured out all out haha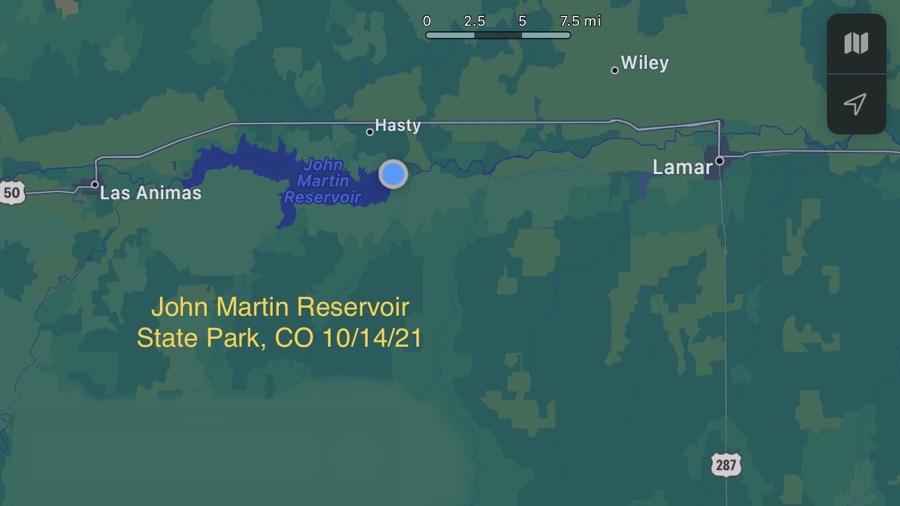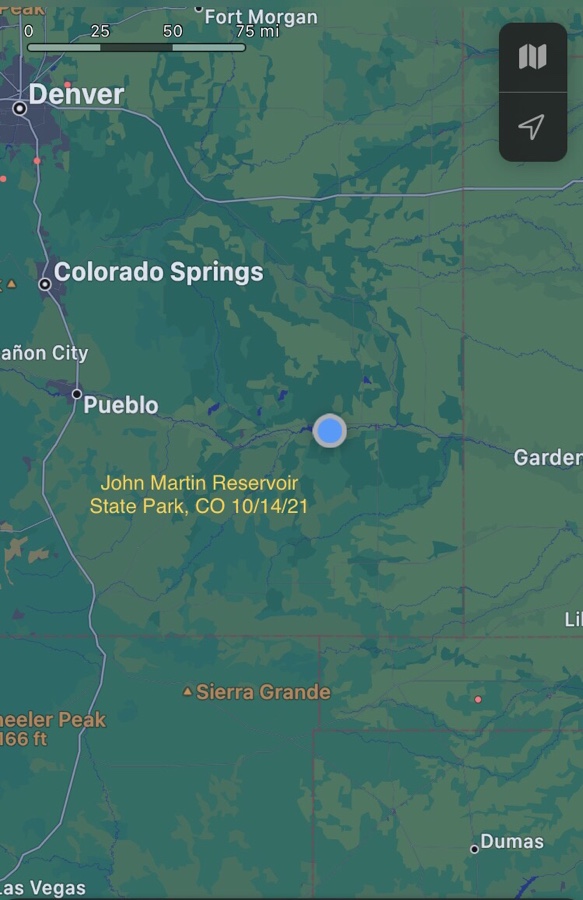 The second night, Jeff fixed steaks for dinner and at dusk A LOT of turkeys suddenly landed in a nearby field. They made their way over to the tree near our camper. There's a snow storm headed this way and they roosted here overnight! [Random funny: my auto-correct kept changing that to roasted & I had to stop and laugh a while… turkeys roasting overnight 🤣!]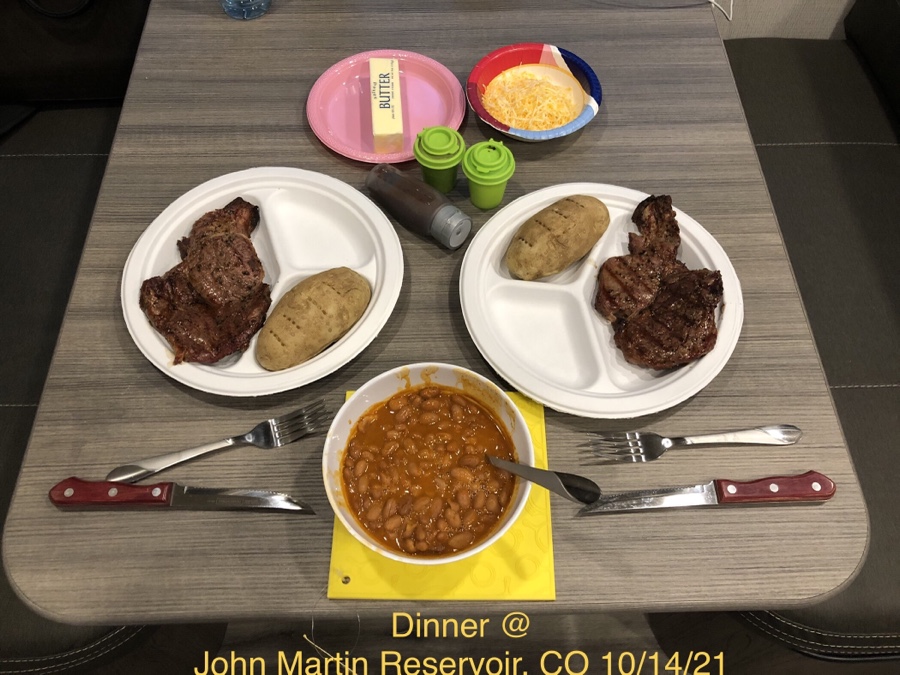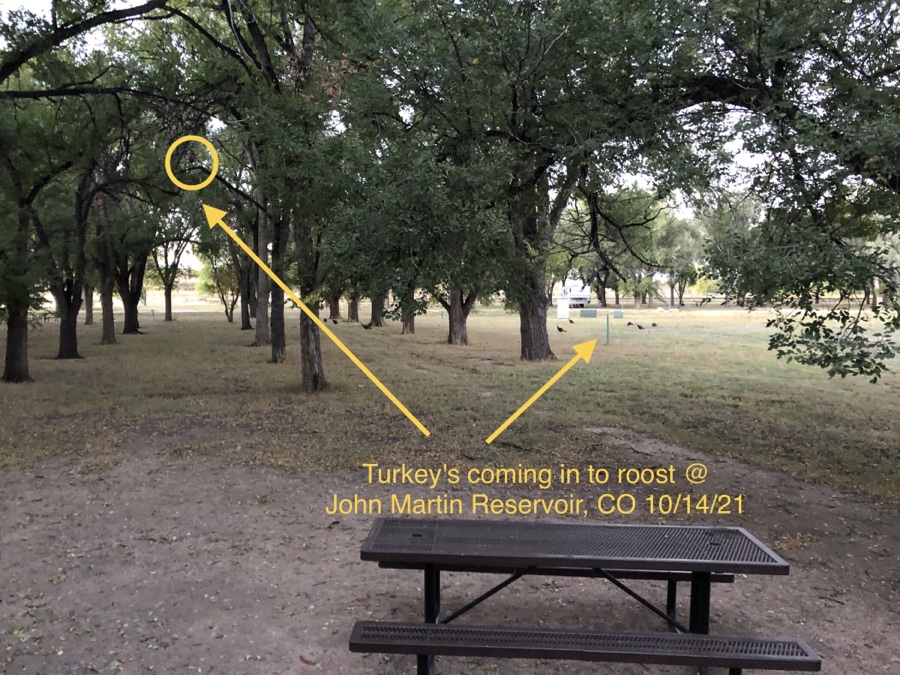 This made me think of my dad and "Uncle" Paul. They have some turkey stories 😉 Today's my dad's birthday so it's fitting that turkeys showed up!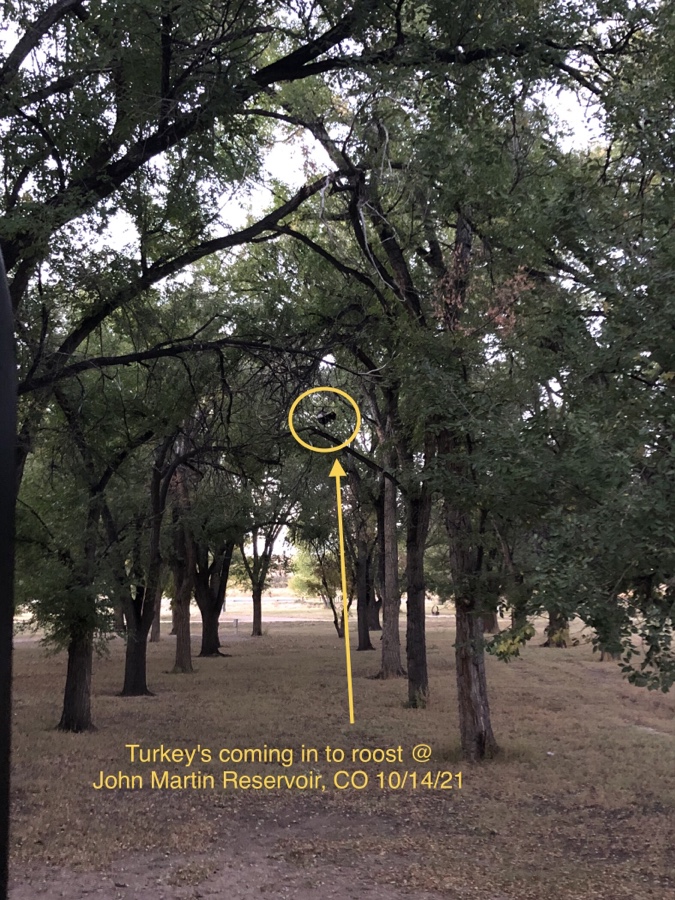 It was 28* when I got up on 10/15/21! Fortunately, our camper is rated for all-season. We decided to go into the little town of Hasty, CO a couple miles away.. There's literally a post office and a cafe/store. Good food, GREAT people!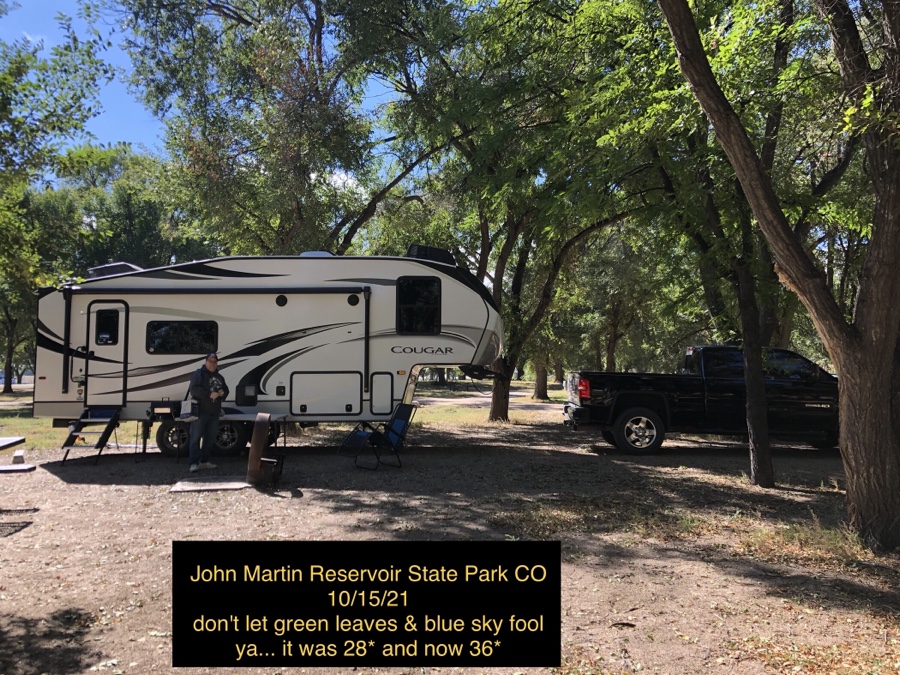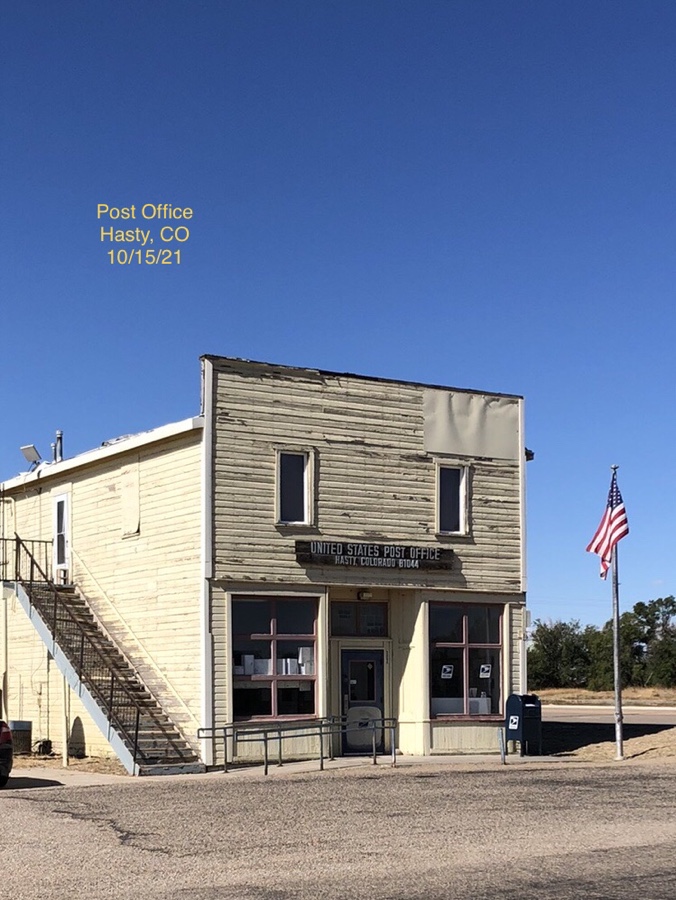 Afterwards we drove into Lamar just to check it out and then drove over the John Martin Reservoir dam & river to the southeast dispersed camping & hunting areas.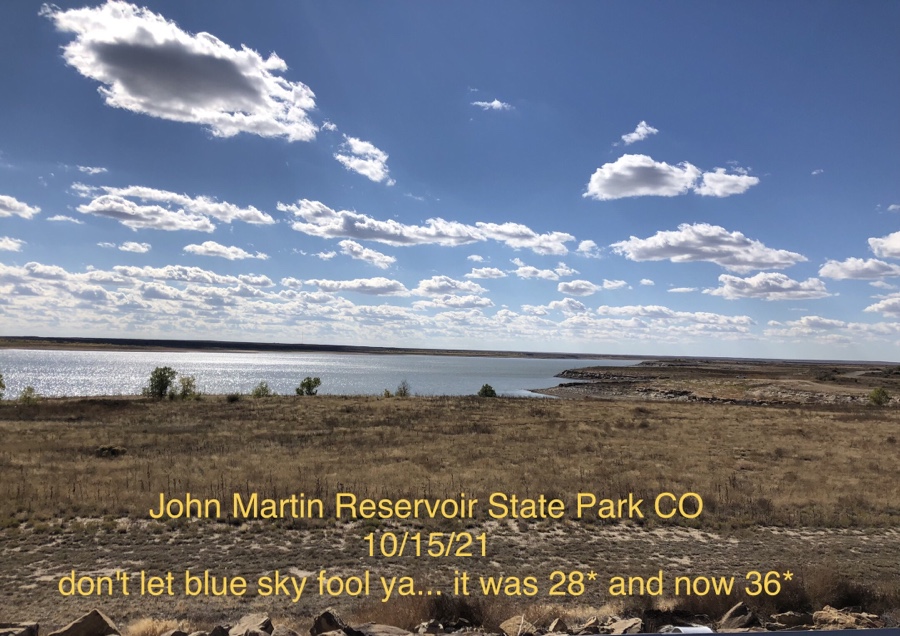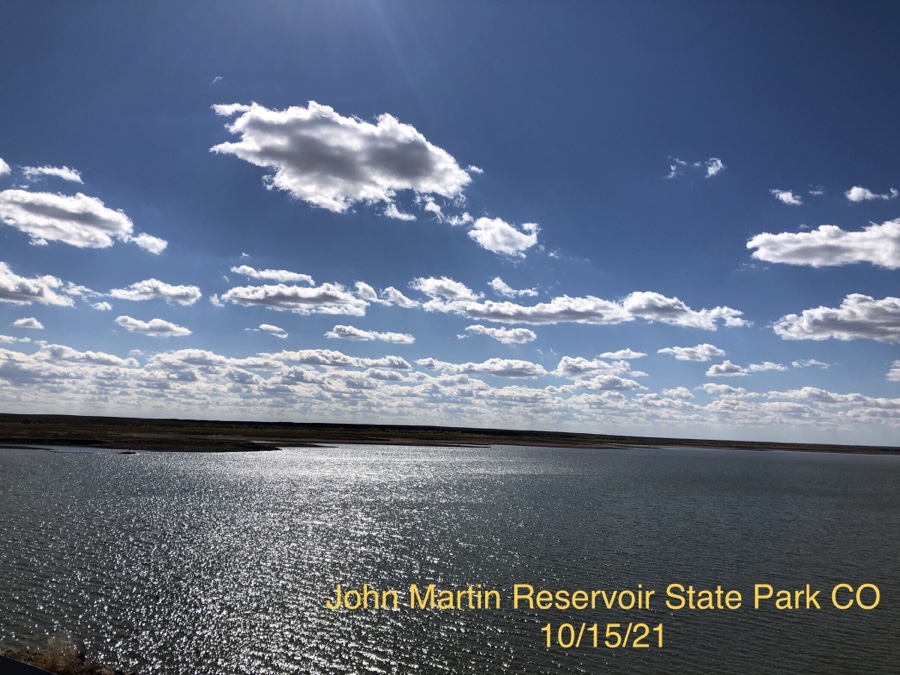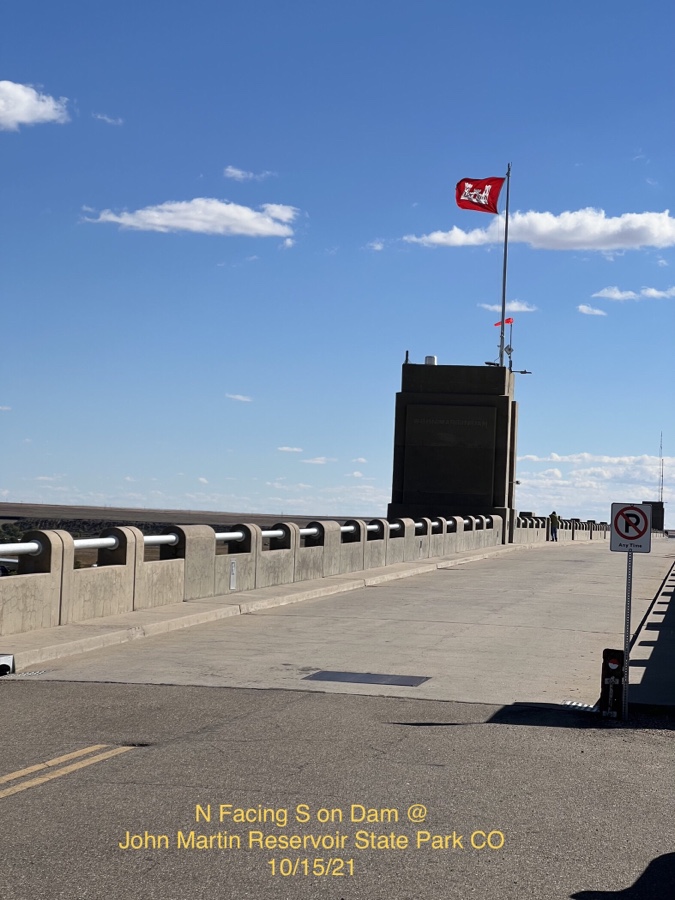 You can't really see in photo but the reservoir name is etched on the tower.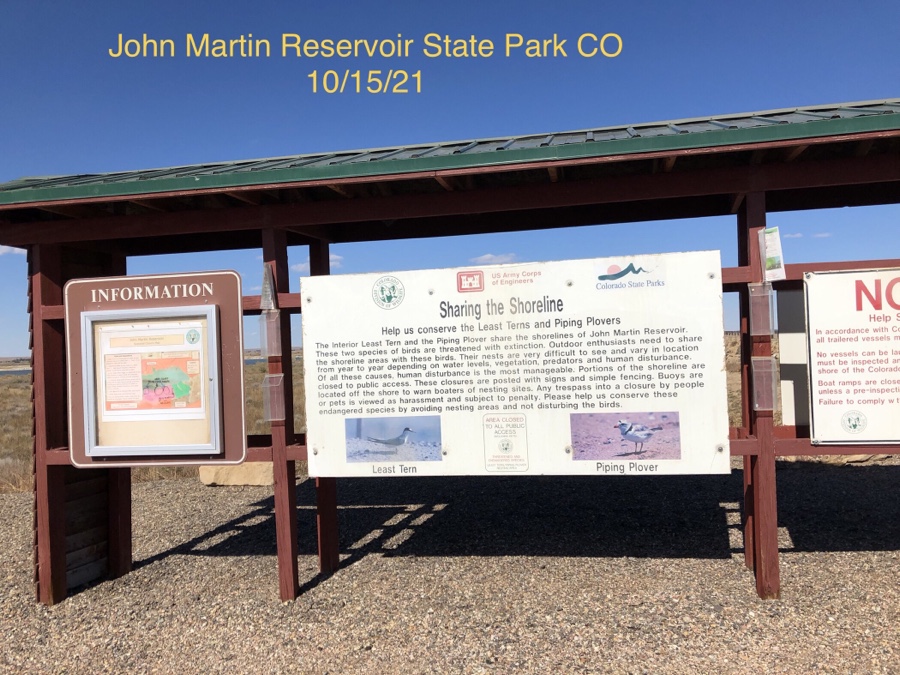 There are protected water fowl areas on the SW side of dam. Its all dispersed camping (well marked) that they rope off depending on mating/nesting seasons. Even the campsite we are in becomes eagle sanctuary in a few weeks. (those tree where the turkeys perched become eagles habitat).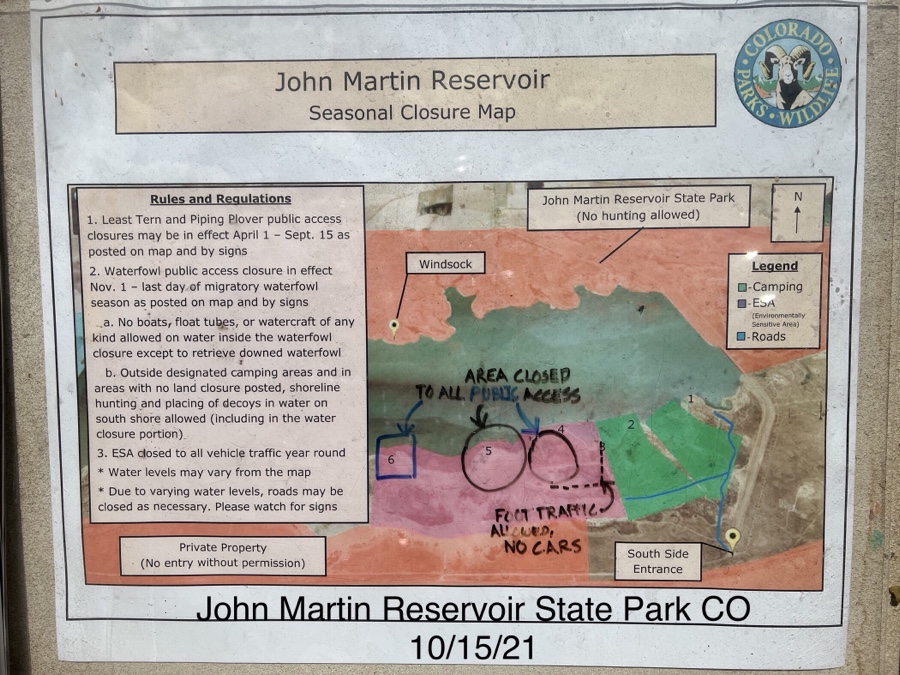 Just for reference, our campsite is located up in the right hand corner, kinda literally under the "Legend" logo.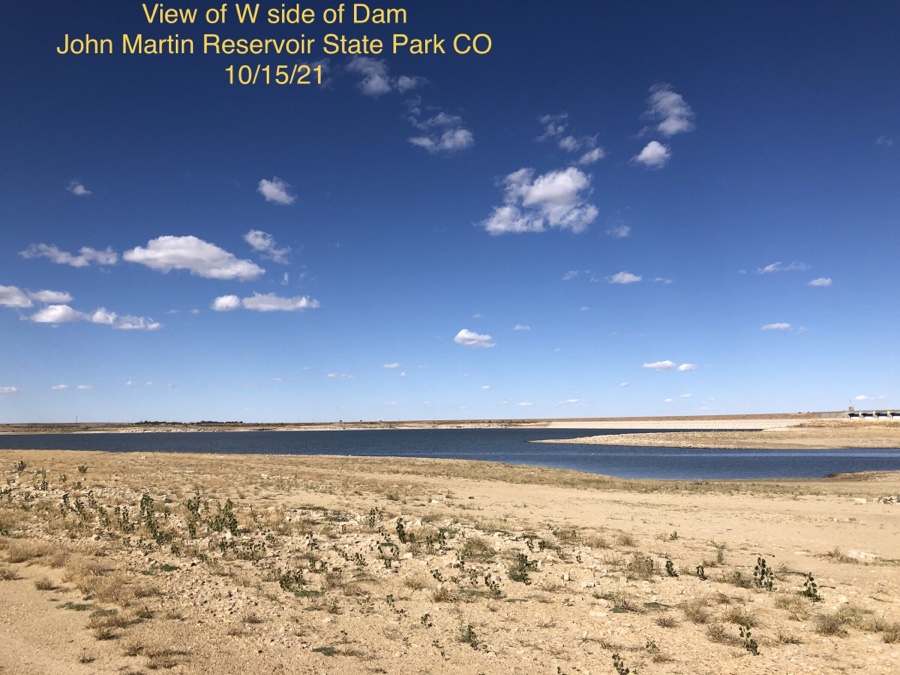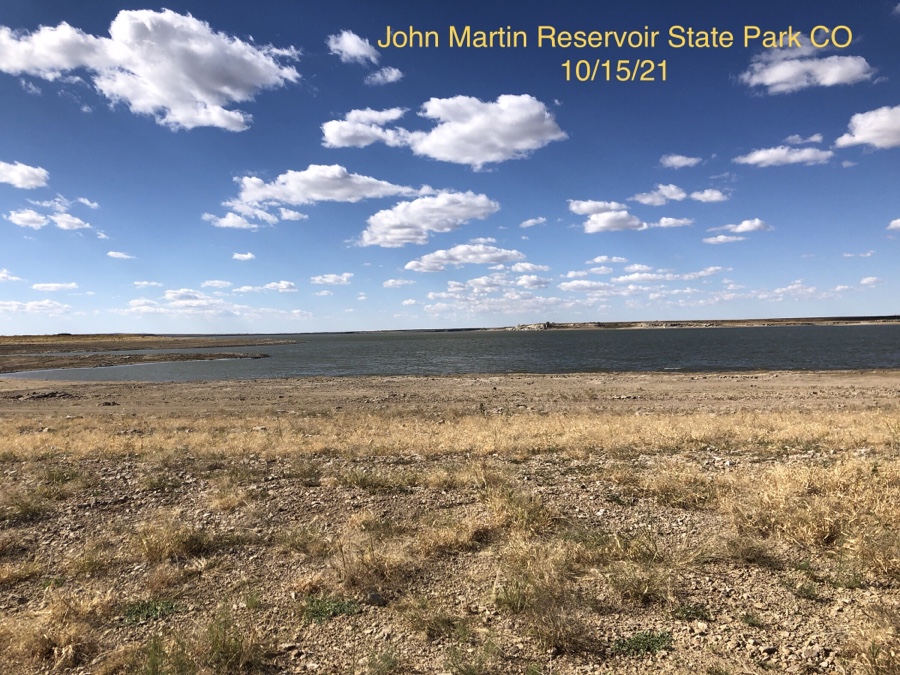 Then we completed the loop over to the SE side of the dam and found an "Ultimate Frisbee Golf" course and the swim beach (closed).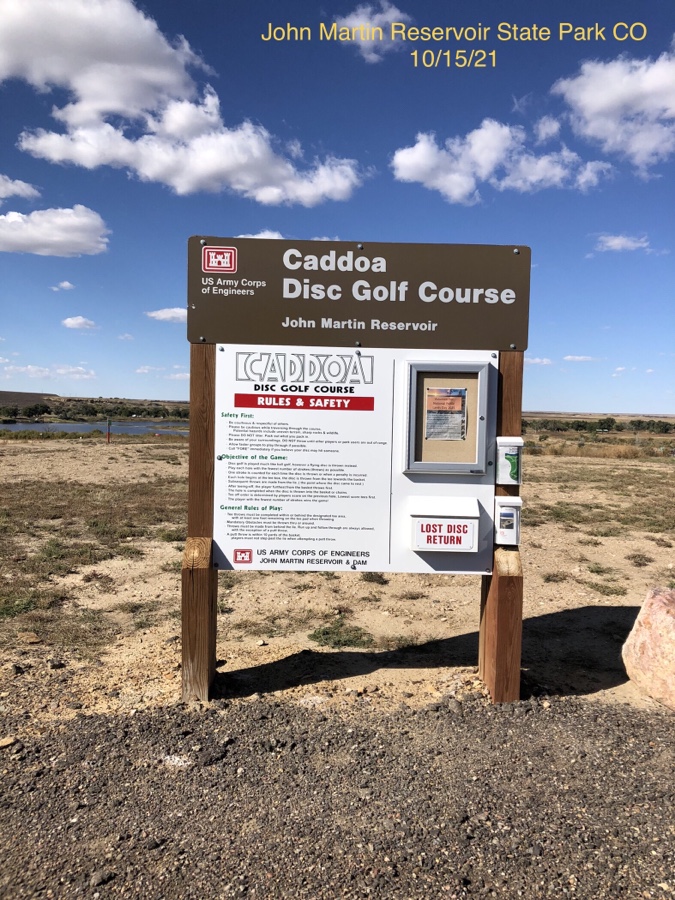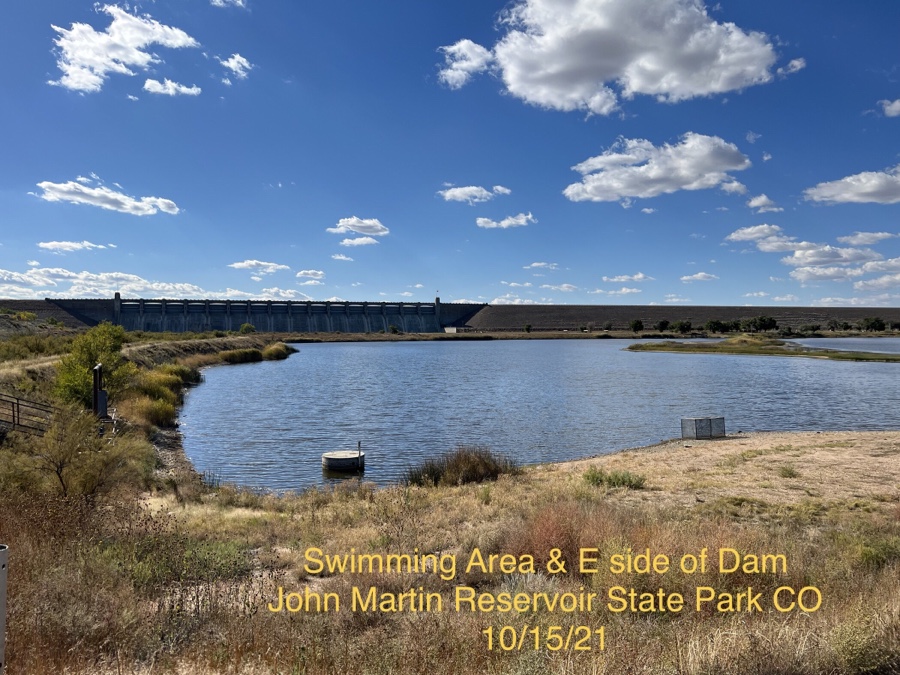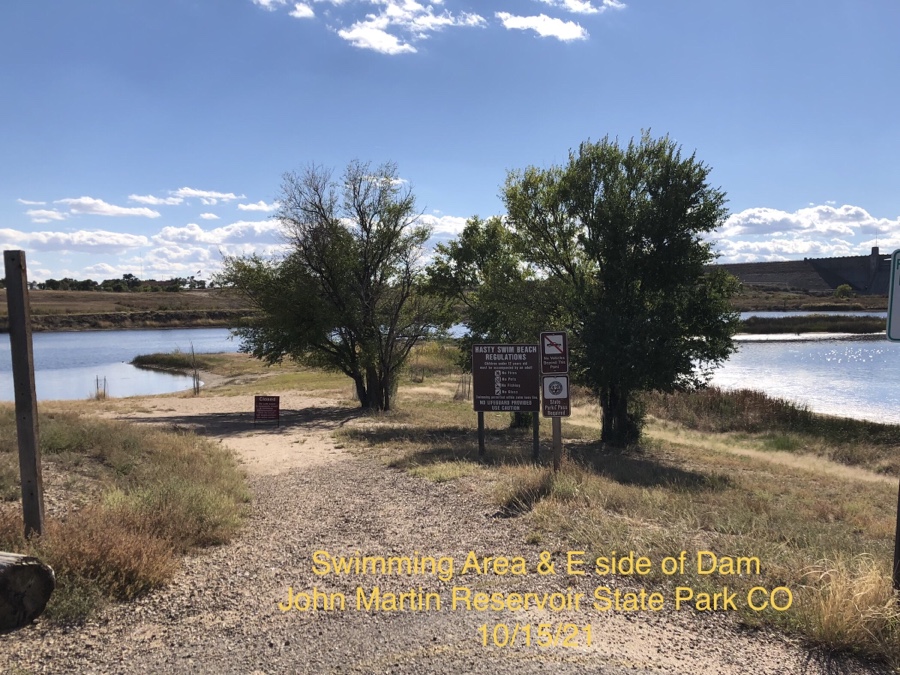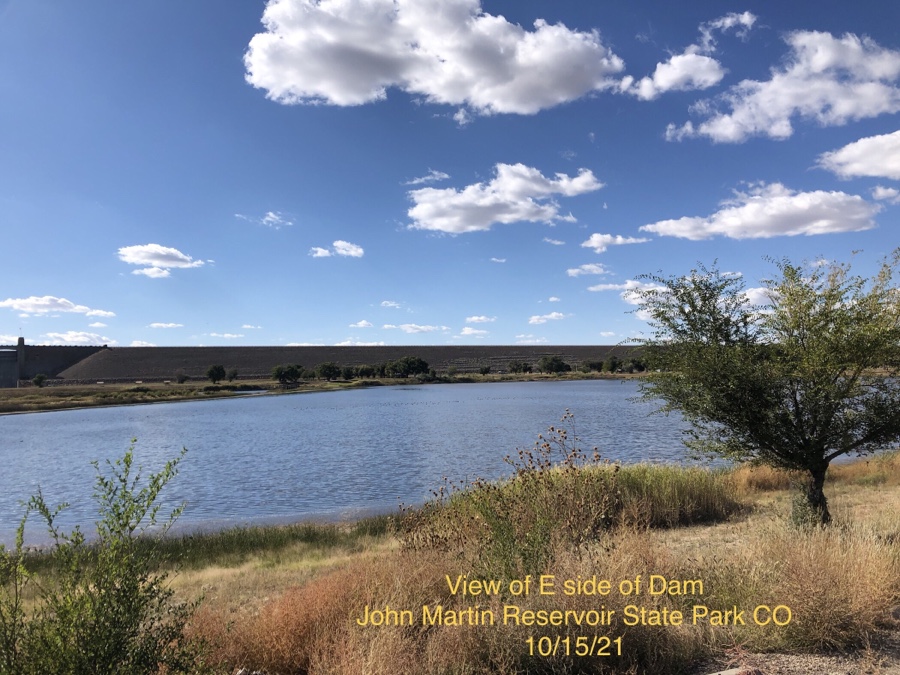 I'm not a foodie so don't always think of food presentation… but I'm trying to remember meals & what worked or was easy …. and what wasn't 😉 The chicken & rice w/ brown rice worked fine. Took us a while to figure out how to use the oven for the first time!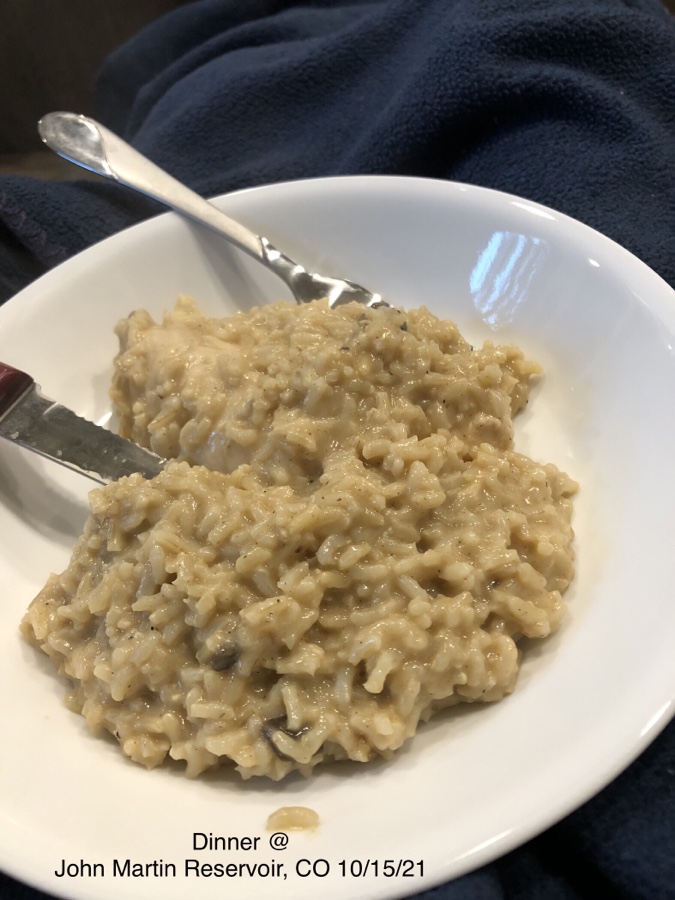 It's still REALLY chilly 😉 out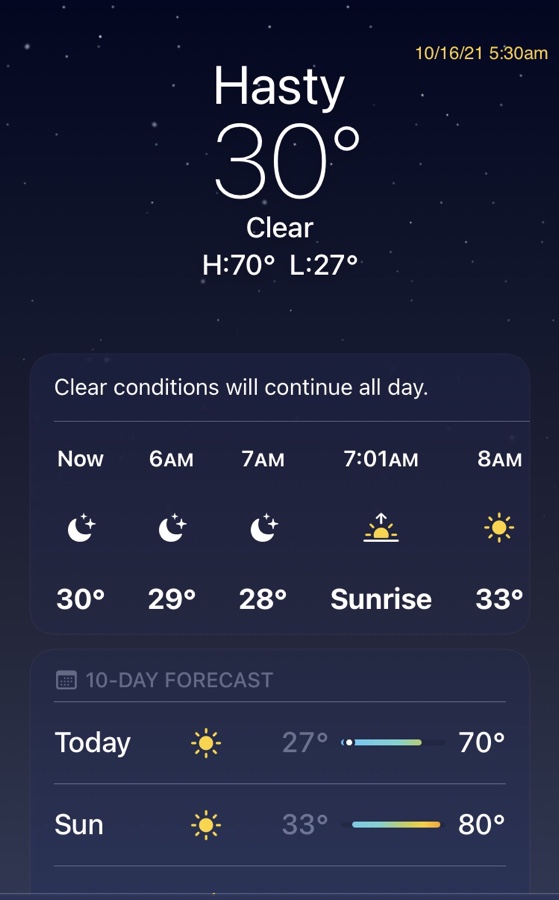 When it warmed up a bit, we decided to walk to the fishing pavilion. [NOTE: I hurt my leg a few weeks ago and its still tender, so I wasn't sure I could walk that far & back].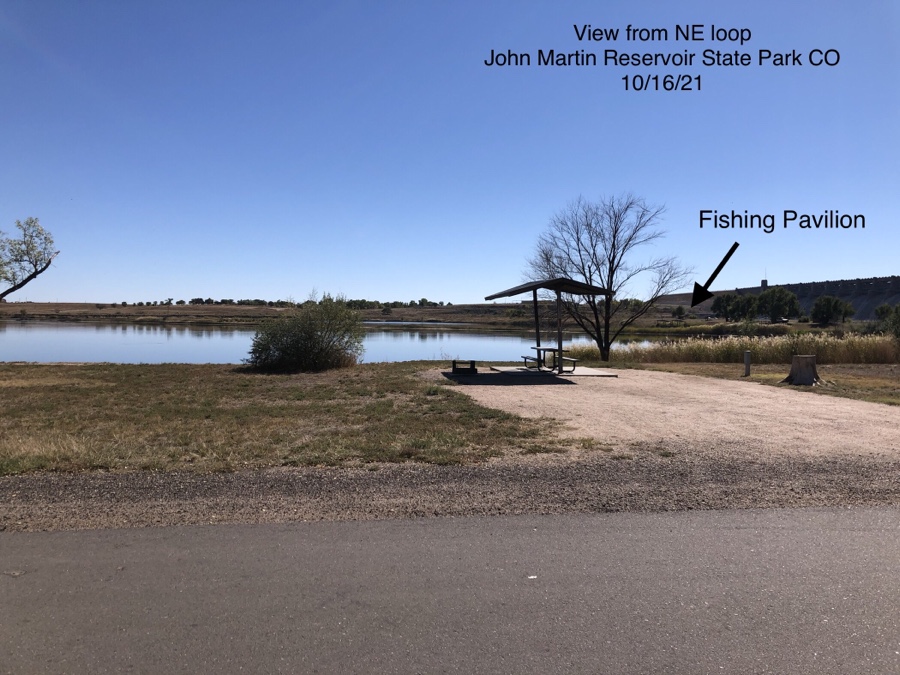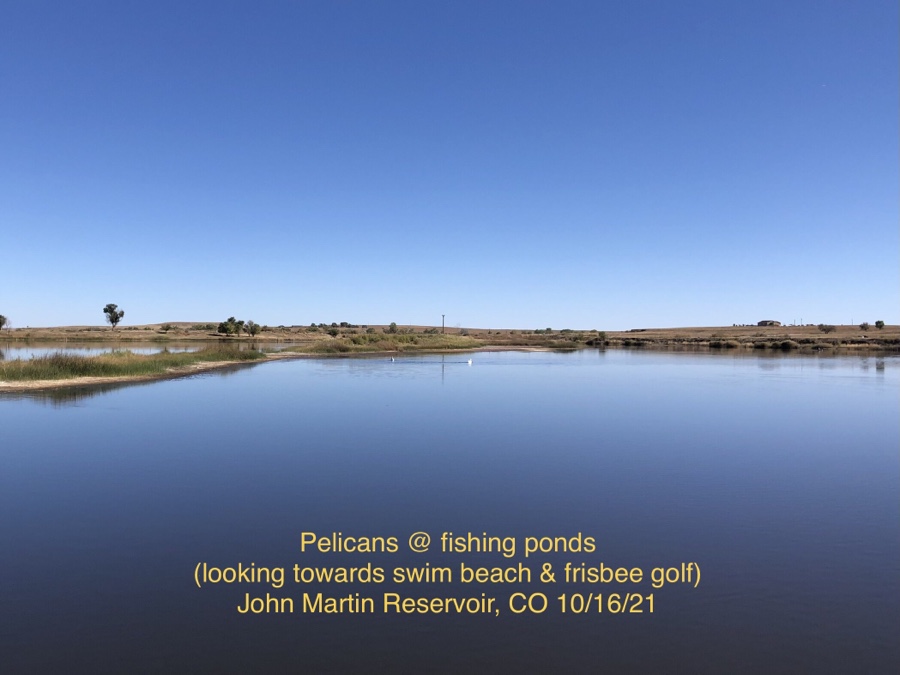 Yes… Pelicans. Remember, I said this is kinda a water fowel area? I didn't realize CO had pelicans…. but we do! Here's a couple links for more interest in CO birds & SE CO birds:
https://seconews.org/article/1216 and
https://cpw.state.co.us/placestogo/parks/JohnMartinReservoir/Documents/JohnMartinBirdChecklist.pdf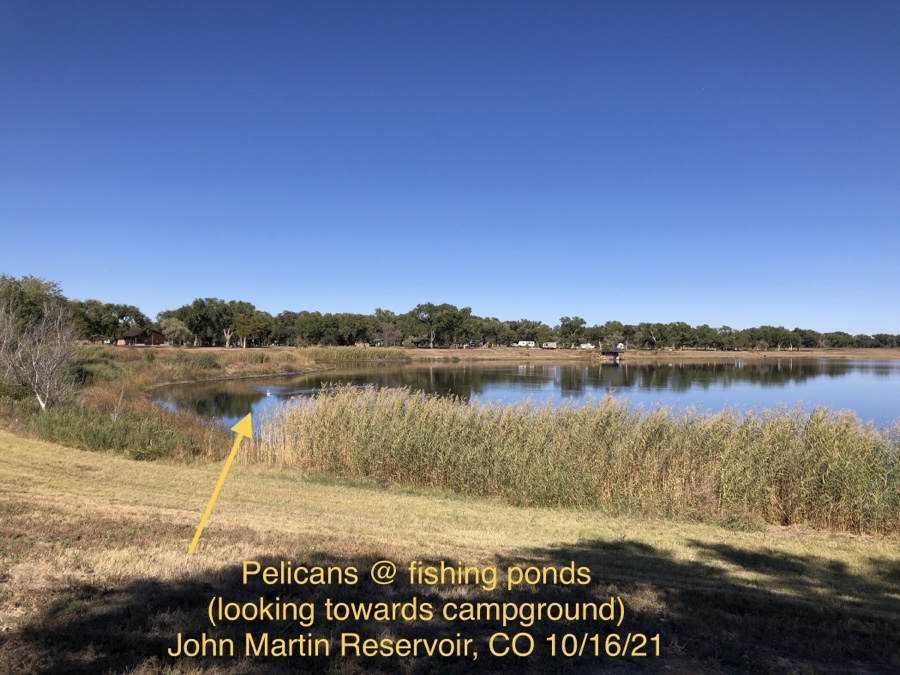 THIS view is looking back towards the camping area (kinda looking at the place I took the photo above of the fishing pavilions).
I made it back to the camper… well… I had to stop a couple campsites away & wait a bit for my leg to let me…. but THEN I made it back. Jeff has been doing all the cooking so I can stay off my leg. We thought it'd be handy to know if "ready to assemble" meal kits would be useful….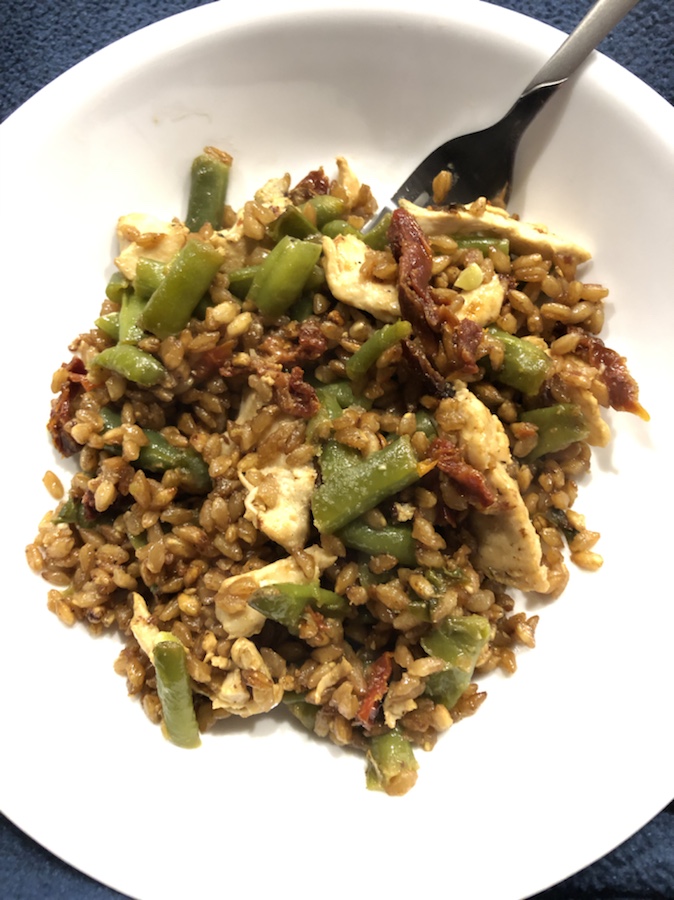 THIS one was something neither of us liked… it smelled good 😉 but I guess I'm picky.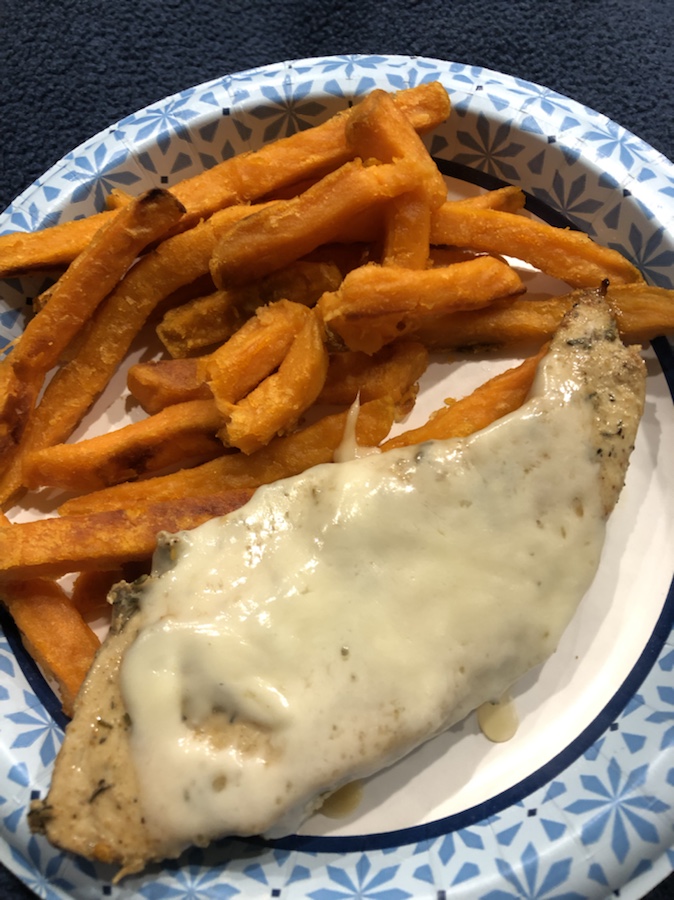 This one was fine… Jeff doesn't like sweet potatoes & I didn't want all double portions on mine so it worked. Not sure we'll do again but I think the concept is still a good idea…. having "ready to assemble " meals. Just make up our own.
I know this may seem long and boring but I'm using it as reference. I alos have many people on this list who do not camp or CANNOT. I also hope that I've been thorough enough for anyone to "follow the story". Feel free to lemme know if I'm missing something!
All done… enjoy!