[pics incl] Tonight we celebrated Heather at a Brazilian Steak House (her choice). If you will recall, I've mentioned that our Christmas and New Years was interrupted due to Covid and then we left on Jan 14th. Ashley's 25th birthday was the 14th and Heather's 29th on 15th. Basically we've neglected her 😉. This week she received a promotion at work and tonight was all about "Celebrating Heather."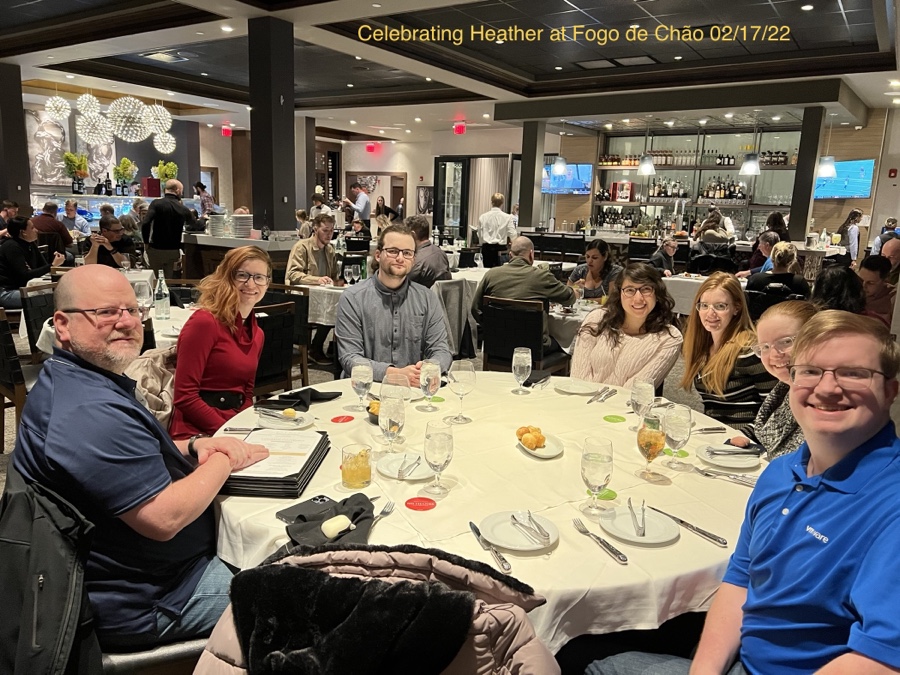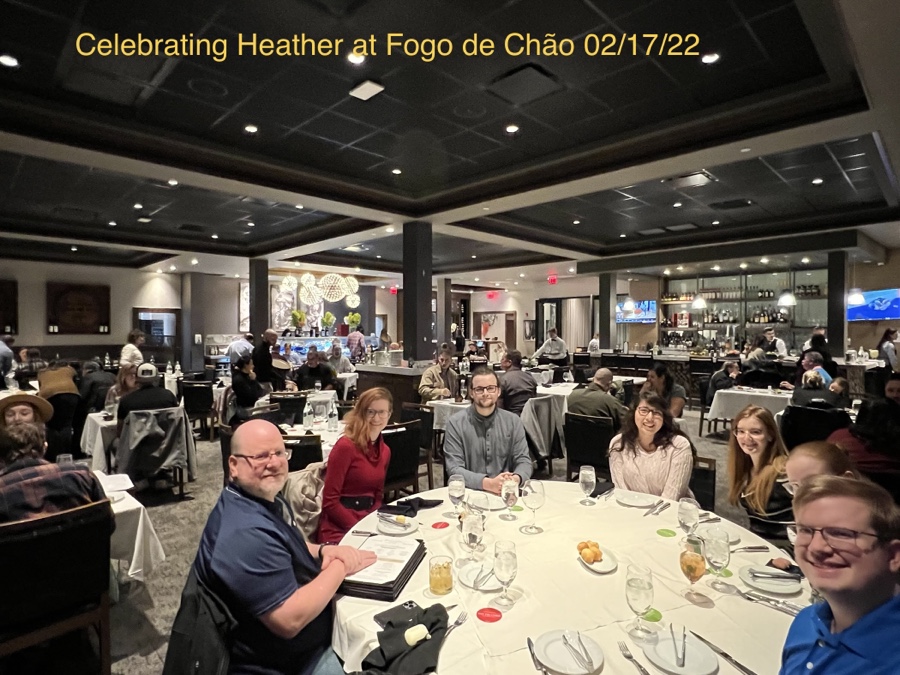 The restaurant is one where they bring around different types of meats on a giant skewer, prepared in various manners. Of course, some of the selections included steaks, but also lamb, chicken and pork. In order to determine if you would like to be served, there are coasters on the table, one side says "yes please" and the other "no thanks". There is also a large salad bar. [I've been to a place like this before where they used flags you raise or lower to indicate you'd like more.]
We all tried a bit of each type and compared our opinions. I think everyone had different overall favorite winners but some of the top contenders for overall also included the lamb and the Parmesan pork.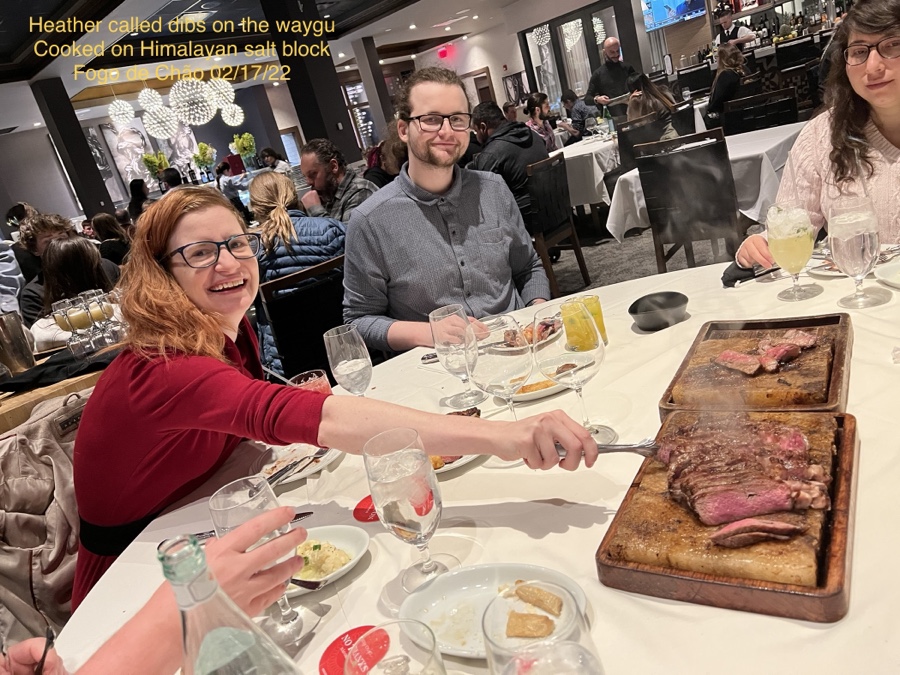 Jeff also ordered two different kinds of waygu that were cooked on Himalayan salt blocks. The salt block is HOT so the meat continues to cook allowing for different preferences of doneness.
We ordered some desserts to share but she received her very own, courtesy of the restaurant. She requested flan. I guess I forgot to take photos of the key lime pie and chocolate cake.
…of course, it's not a family dinner unless Heather spills her drink! Fortunately, her glass of water was empty already!
As we were leaving, everyone said I needed to be in a picture. But then we all put on our coats & hats to leave. Jeff said he'd quickly snap one.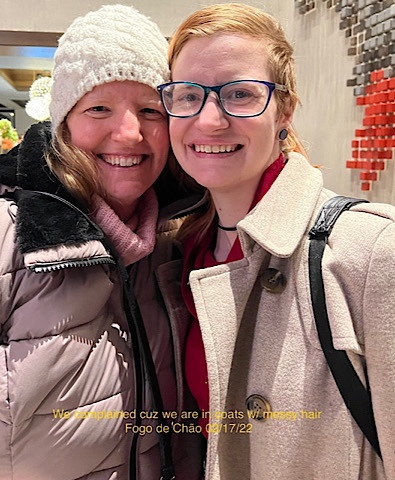 We had him redo it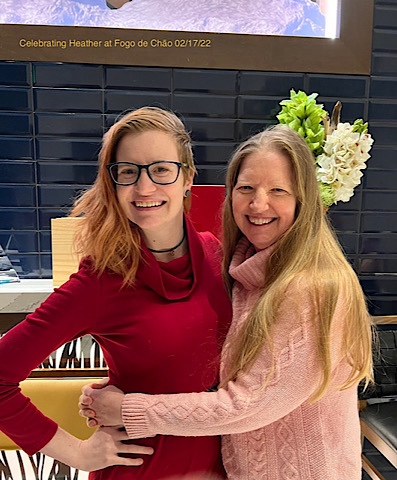 I've had to crop them both because… thumbs 😂
One of the hostesses came to the rescue. We all should have took off hats & coats again but we got a group photo!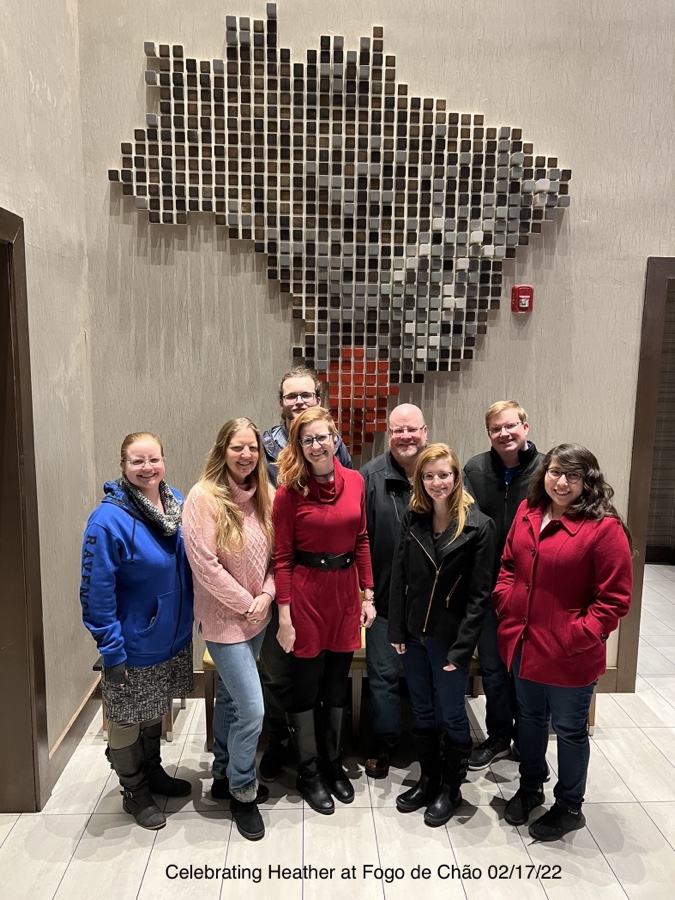 Because we all have our coats on again, you can't see the prank we tried to pull on her. Most of us… are wearing matching shirts with a partner. (Ashley didn't get the memo right😉 so her partner in crime isn't matching anyone either).
Congrats Heather & happy birthday. We all love you!