[pics incl] There's a story here…. some of you may know. Obviously, ya'll can click on the blog and go back years…. there was my "manual" website for years before that, email before that… BUT FIRST, I wrote letters. I was diligent, I've kept a journal since I was little and I plucked things to send to distant family. I ALWAYS made sure I wrote to great-aunts/uncles, grandparents [all my "offline people"] etc… and they usually wrote me back.
My Grandpa Bacon was also a pretty faithful pen pal in return. Before his hands became too arthritic, he would wrote me pages and pages. I often credit him for being the reason why I became "creative" in my writing. I decided one day that I couldn't just say things like "basketball was fun." His questions made me realize I had to paint a complete picture in my letters so he could EXPERIENCE what I meant to say. I'd often ask him to critique me. He continued to do so all through my college years.
I know I was blessed to get these gems. At some point he eventually switched over to typed letters. While the content was the same, the letters were different.
His handwritten letters would always include doodles and notes in all of the margins… his signature would always be variations of doodles of "Grandpa… loves you"…. but more importantly the doodles of….
"… and Sicnarf too…" Sometimes, Sicnarf would have something lengthy to say!
My grandpa 's name is Francis…. (yes…. Francis Bacon) Sicnarf… is Francis backwards.
his Sicnarf art was self-proclaimed awful but to me…. precious. Sicnarf would peak out over specific words or the edge of a margin. His long nose leading the way… fingertips over the edges. His eyes were often expressive of something important he had to say!
I know that some of my younger cousins may have missed out on grandpa's humorous "awful" and fabulous art. I know it's special.
One way I have shared my grandfather with my kids is to share that story. I'm sure it started w/ me randomly doodling Sicnarf on something when they were little.
Out of the blue today,…. I received a picture of…. Sicnarf Jr…. from Heather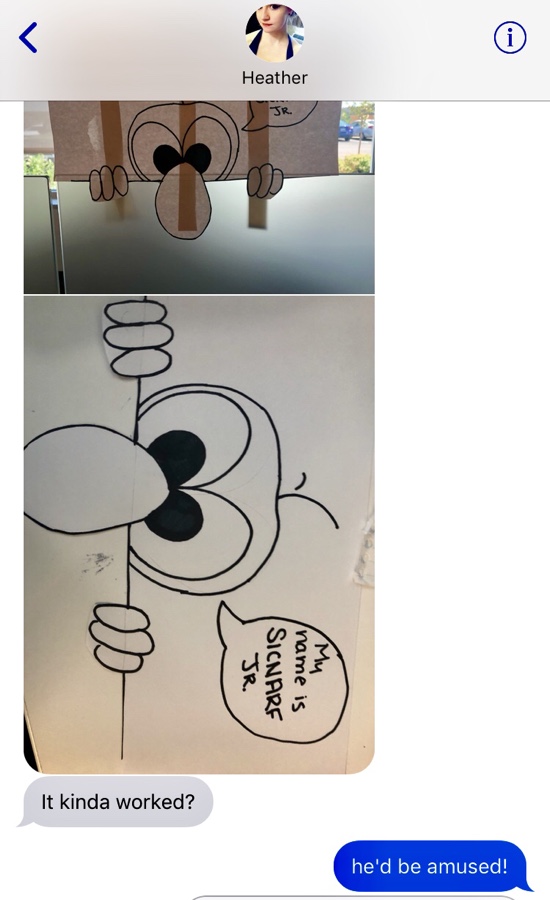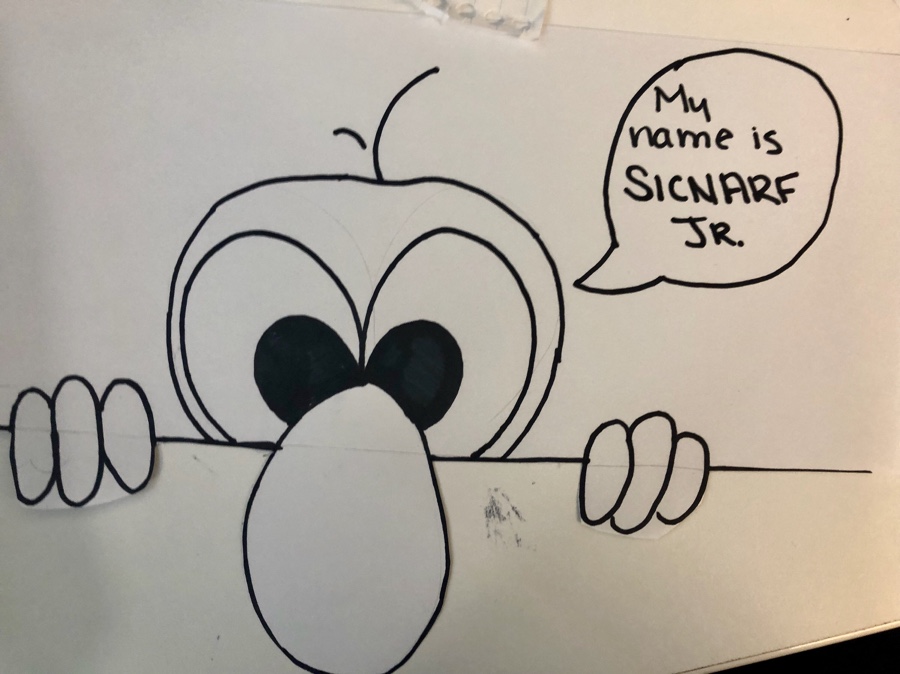 Heather 's is prettier but I'm sure Grandpa approves! She said she always peeks over her cubemates' wall and today she felt compelled to draw a Sicnarf friend and set him up to view over the glass.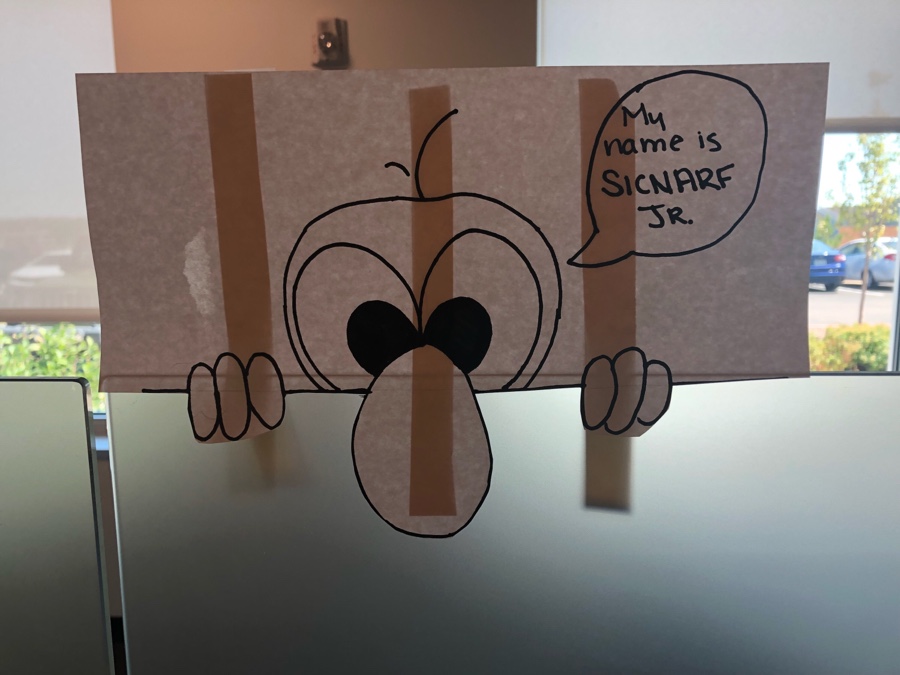 I too had been talking about my grandfather in the few hours before receiving this txt. Jeff and I are still in SF and we were waiting at the bar, for a group for dinner to arrive. I was going to just order a ginger ale but the bartender, Francis, assured me he makes good mules…. I looked at Jeff and said "what? you know I'm partial to guys named Francis?"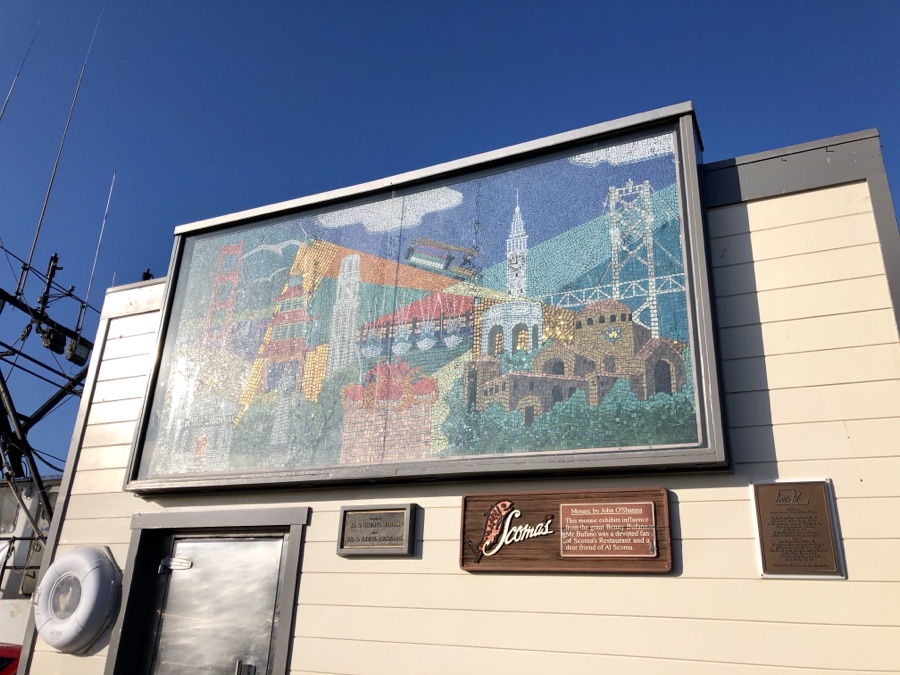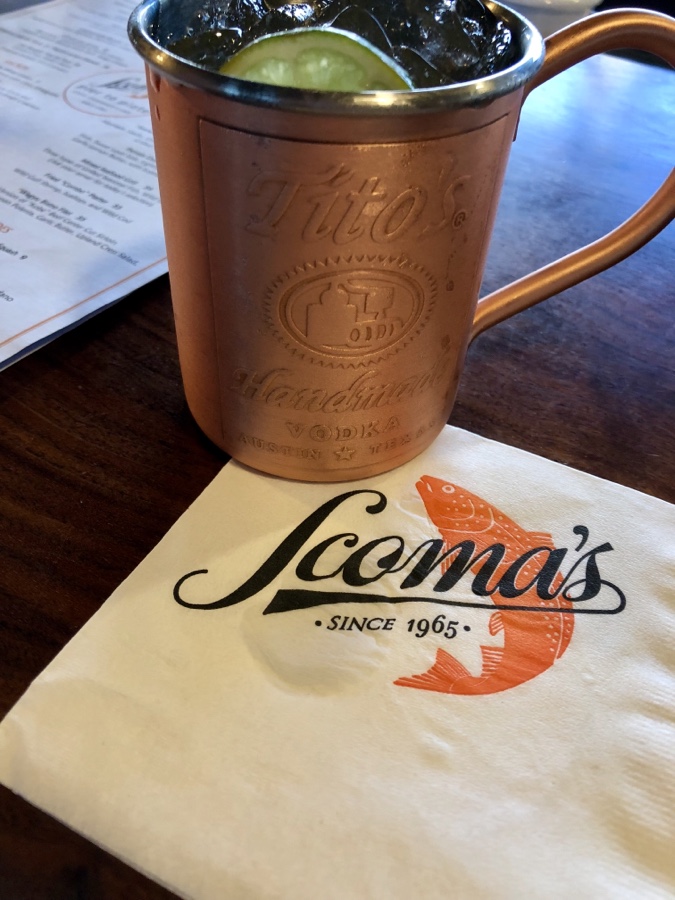 If you get an opportunity to visit Scoma's restaurant, you should make reservations so that you have a view of the water. The place has history and ambiance, excellent food and service.
…. and since I've told you all about Francis…. someday I should tell you about guys named Walter 😋